Apple Explains Why HomePod Was Released Again, Wi-Fi 4 Limitation, and More
Apple's VP of hardware engineering Matthew Costello and product marketing employee Alice Chan recently spoke with Men's Journal and TechCrunch about the new second-generation HomePod in wide-ranging interviews about the smart speaker.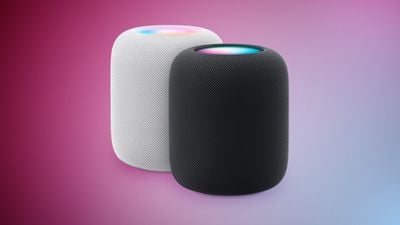 Apple discontinued the original full-size HomePod in March 2021 after multiple reports indicated that sales of the speaker were lackluster, but Chan told Men's Journal that Apple has since "heard more interest than ever for the acoustics of a richer larger speaker," leading the company to release another larger HomePod.
The new HomePod looks virtually identical to the original, although it is 0.2 inches shorter and has a larger edge-to-edge LED touchscreen on top. Costello told TechCrunch that Apple's teams "really love" this shape and form for the full-size HomePod and "were able to create a wonderful system within that structure."
Costello explained why the new HomePod is limited to the older Wi-Fi 4 standard, compared to Wi-Fi 6 on other modern Apple devices:
"HomePod features Wi-Fi 4 connectivity that allows us to target exactly what works best in the entire system," Costello tells TechCrunch, "making sure Siri requests are responsive, and ensuring a consistent experience for all you are listening to, controlling your smart home accessories and more — all while being energy efficient."
He also elaborated on the inability to pair a new HomePod with an original HomePod:
"When creating a stereo pair, it's important that the audio characteristics match for an optimal, balanced experience," says Costello of the lack of compatibility. "The new HomePod delivers immersive, room-filling sound users love — with even more detail, clarity and layers than the original HomePod — so we wanted the acoustical imaging to be as pure and consistent as possible from generation to generation. The principle of having audio characteristics match in a stereo pair applies to HomePod mini, the original HomePod and the new HomePod."
Apple told both media publications that the HomePod mini is "popular," but did not provide any additional details or comment on the future of the smaller speaker.
In his interview with Men's Journal, Costello provides additional details about the new HomePod's hardware and technologies, including the four-inch high-excursion woofer, tweeters, beamforming microphones, room-sensing capabilities, and more.
The new HomePod is available to pre-order for $299 and launches this Friday in the U.S., Canada, France, Germany, Italy, Spain, the U.K., Japan, Australia, and select other countries. Check out our HomePod review roundup for a hands-on look at the speaker, which many reviewers found to have largely the same sound quality as the original.