Apple Cuts HomePod Orders After Sales Prove to Be Lackluster
Apple's HomePod hasn't ended up selling as well as the company was hoping, leading it to cut orders with suppliers, reports Bloomberg.
In late March, nearly two months after the HomePod first became available for purchase, Apple reportedly lowered its sales forecasts and dropped some orders with Inventec, the company responsible for manufacturing the HomePod. HomePod inventory in retail locations is said to be "piling up" with some stores selling "fewer than 10 HomePods a day."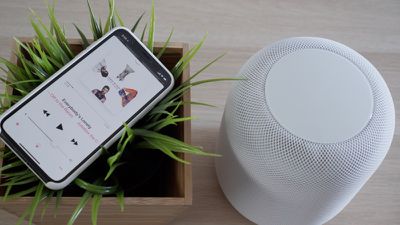 Early analyst estimates based on strong pre-orders and initial sales figures suggested the HomePod would sell well and capture a solid portion of the smart speaker market, but Apple hasn't managed to maintain sales momentum.
During the HomePod's first 10 weeks of sales, it eked out 10 percent of the smart speaker market, compared with 73 percent for Amazon's Echo devices and 14 percent for the Google Home, according to Slice Intelligence. Three weeks after the launch, weekly HomePod sales slipped to about 4 percent of the smart speaker category on average, the market research firm says.
Apple charges $349 for the HomePod, making the device more expensive than competing smart speakers from Amazon and other companies. Apple put a lot of effort into promoting the HomePod's superior sound quality, but its high price tag, its lack of connectivity with non-Apple devices, and its inability to work natively with music services other than Apple Music have likely hurt its sales.
As Bloomberg points out, the HomePod's February launch was delayed from an initial promised December launch, causing Apple to miss out on key holiday sales.
HomePod also continues to lack promised features like stereo pairing to pair two HomePods together and AirPlay 2 support for controlling the music on multiple HomePods located in different rooms of the house. There are hints of this functionality in iOS 11.4, so these options could be coming soon, but HomePod owners and prospective buyers are likely disappointed with the months-long wait for basic features.
Apple isn't likely planning to give up on the HomePod despite its lackluster sales because it's part of an audio accessory lineup that includes the AirPods and the upcoming rumored high-end over-ear headphones.
Loup Ventures analyst Gene Munster in February said he expects sales to pick up later in the year. He predicts Apple will sell a total of 7 million HomePods in 2018, with that number set to grow to 10.9 million in 2019.