Apple Cuts iPhone 14 Pro Prices in China by Up to $118 in Rare Sales Push
Apple has cut the price of its latest high-end iPhones in China in an apparent attempt to offset dwindling demand in the country (via Bloomberg).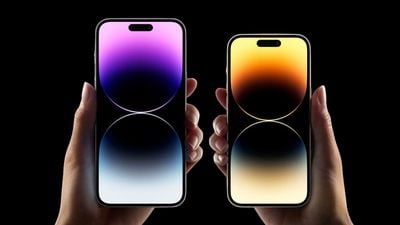 Apple merchant JD.com, China's second-largest e-commerce platform, is among the retailers that have taken 800 yuan ($118) off iPhone 14 Pro and Pro Max models in the last few days. State carrier China Mobile has also slashed its prices for the phones.
Retailers in Shenzhen have also offered price cuts ranging from 600 to 800 yuan for the higher-end devices in the ‌iPhone 14‌ series. Meanwhile, Apple's own local website continues to offer the devices at regular prices.
The discounts came around the end of the Lunar New Year season, when retailers typically expect an increase in footfall before schools reopen. Inventory for the ‌iPhone 14‌ Pro models at some stores has reportedly sold out already.
As Bloomberg notes, the roughly 7% to 9% discounts on the ‌iPhone 14‌ Pro range mirrored offers on lower-end models, which are typically the first to get cut, suggesting Apple is responding to weak demand in the world's largest smartphone market.
Apple on Thursday released its financial results for the quarter ending in December, reporting a roughly 5% decline in revenue compared to the year-ago quarter. Apple cited a "challenging environment" that included iPhone supply issues due to COVID lockdowns in China, which hampered its ability to ship devices to customers.
During his investors call, CEO Tim Cook pointed to a rebound in the China economy now that COVID restrictions have been relaxed, but suggested Apple's performance for the current quarter would mirror that of the December period, suggesting another 5% revenue decline year-on-year. ‌iPhone‌ revenue is expected to accelerate in the March quarter.
China's smartphone market finished 2022 with an annual shipment of 287 million units, a year-on-year decrease of 14% and the first time since 2013 that the country's market shipment has fallen below 300 million units, according to a report by Canalys. Apple reached an all-time-high market share of 18% for the year, despite growth for the fourth quarter dropping by 24% due to supply issues, said the report.