Apple Event Live Updates: MacBook Pro and AirPods 3 Announced! [Event Over]
Apple's virtual "Unleashed" event kicks off today at 10:00 a.m. Pacific Time, with the headline announcement expected to be redesigned MacBook Pro models based on Apple silicon. We will almost certainly also be hearing a release date for macOS Monterey and may see a few other announcements such as third-generation AirPods and a new high-end Mac mini.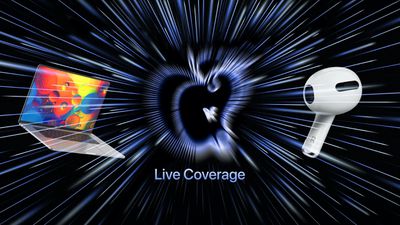 Apple is providing a live video stream on its website, on YouTube, and in the company's TV app across its platforms. We will also be updating this article with live blog coverage and issuing Twitter updates through our @MacRumorsLive account as the keynote unfolds. Highlights from the event and separate news stories regarding today's announcements will go out through our @MacRumors account.
As usual, Apple's online store is currently down in advance of the event.
Sign up for our newsletter to keep up with Apple news and rumors.
Live blog transcript ahead...

8:11 am: We're under two hours to go until showtime!
8:11 am:

8:30 am: For a full recap of everything we're expecting to (or might) see today, check out our What to Expect article.
9:00 am: One hour to go!
9:24 am: Several fake YouTube streams claiming to be of the event are circulating, with the videos actually being cryptocurrency scams displayed alongside previous clips of Tim Cook on stage. YouTube has already taken down at least one of the accounts.
9:30 am: 30 minutes to go. Start making your snack plans and find a comfy spot to settle in, as this should be a good one!
9:42 am: The video stream is now live on Apple's site, currently featuring the "warp speed" star trails and some ambient music.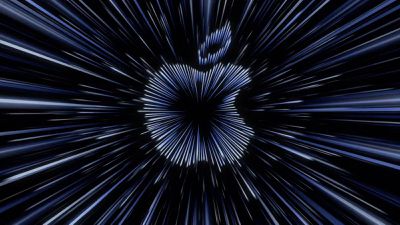 9:59 am: Just a few minutes away! The pace of the visual and music are increasing, with Apple logos repeatedly popping onto the screen.
10:00 am: Counting down, and here we go!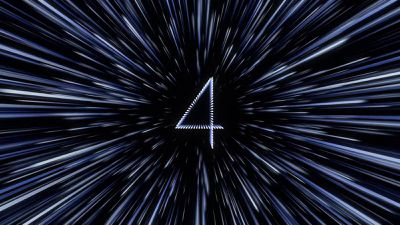 10:01 am: Starting off with a video in a garage showing a person recording the original iMac startup sound. And capturing various sounds like MagSafe clicks and the clicking of an AirPods case to create a song.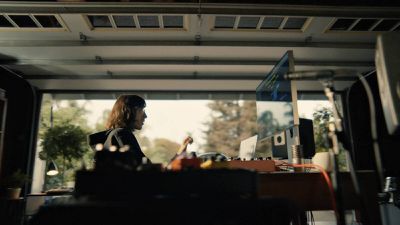 10:02 am: Zooming in to ‌Tim Cook‌ at Apple Park. Welcome back to our second event in just over a month.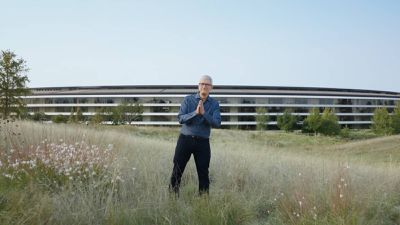 10:02 am: Today, we're focusing on two important areas, music and the Mac. Let's start with music.
10:03 am: Our integration of hardware and services lets you listen across your devices.
10:04 am: This fall, we're taking Apple Music even further. Zane Lowe to tell you more.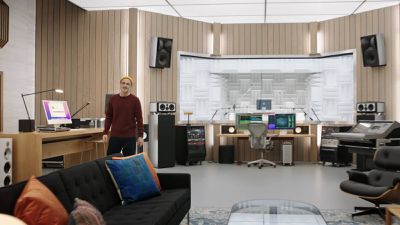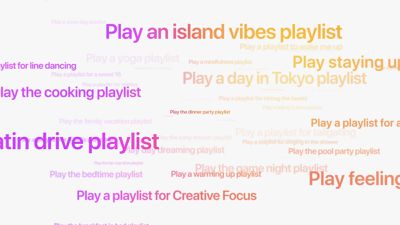 10:04 am: Siri lets you listen to pretty much anything using just your voice. Hundreds of new playlists coming, accessible via ‌Siri‌. "Play some dinner music." "Play a playlist to help me wind down."
10:05 am: Brand-new subscription plan for ‌Apple Music‌...Voice Plan. $4.99 per month. Available in 17 countries. Everything available only via voice.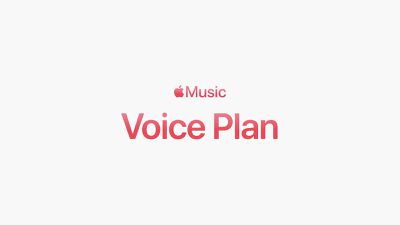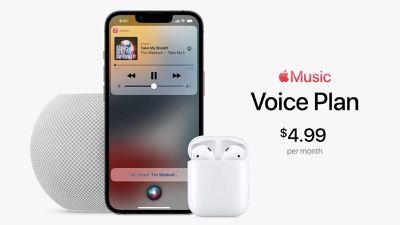 10:06 am: One of the best ways to experience ‌Apple Music‌ is on HomePod mini. Dave Wilkes Jr. to talk about that.
10:07 am: Today, we're introducing more ways for ‌HomePod mini‌ to complement your home.
10:07 am: New colors! Blue, orange, yellow.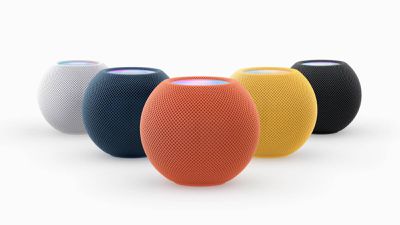 10:08 am: Reviewing some of the things ‌Siri‌ can do with ‌HomePod mini‌ around the house...reminders, Intercom, etc.
10:09 am: ‌HomePod mini‌ still $99, new colors available in November.
10:09 am: ‌Tim Cook‌ back to talk about AirPods, the most popular headphones in the world. Susmita Dutta with more.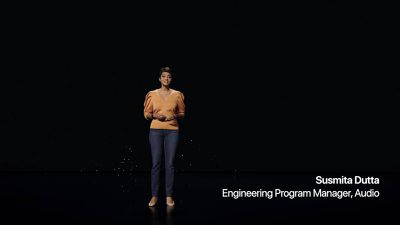 10:10 am: Spatial Audio embeds you deeper into the mix than ever before and brings music to life to create something truly multidimensional.
10:11 am: Every day, top artists are releasing more songs in Dolby Atmos. With TV shows and movies, it enables an immersive experience. AirPods Pro and AirPods Max give you dynamic head tracking. And today, we're announcing the third-generation AirPods.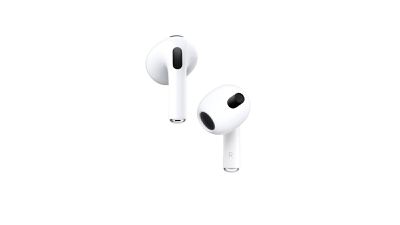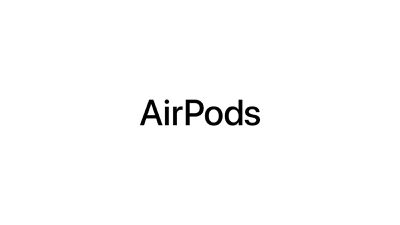 10:12 am: All-new design inside and out. Force sensor like on ‌AirPods Pro‌. Brand-new low-distortion driver for powerful bass and crisp high frequencies.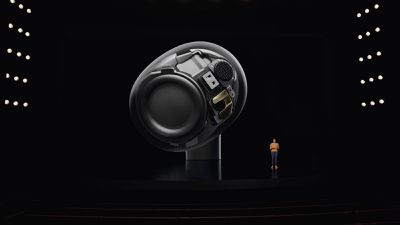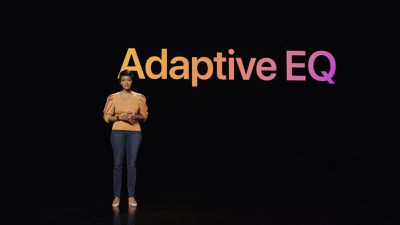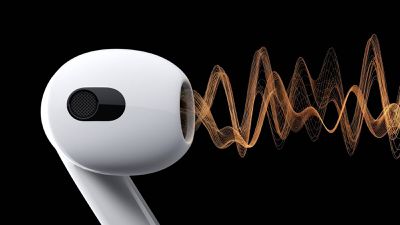 10:13 am: Sweat and water resistant for workouts. New contoured design delivers sound directly to your ears. Adaptive EQ from the ‌AirPods Pro‌ coming to regular AirPods. Adjusted frequencies in real-time based on what you're hearing.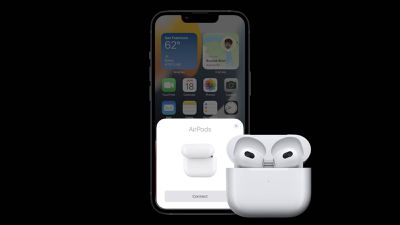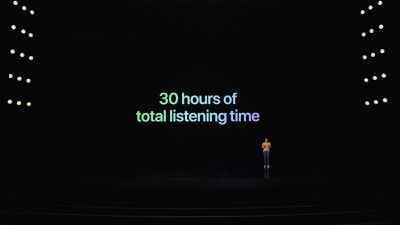 10:14 am: One-touch setup with automatic pairing to all of your Apple devices. Up to 6 hours of listening time. 5-minute charge gives you an hour of listening. Case gives you four additional charges for a total of 30 hours. ‌MagSafe‌ and wireless charging.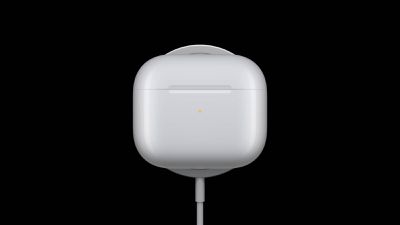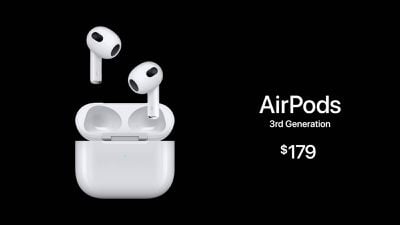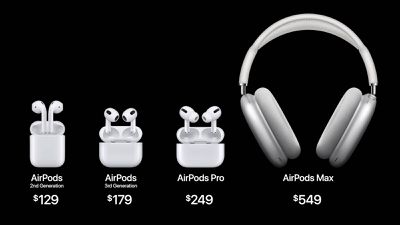 10:14 am: Now let's talk about the Mac.
10:15 am: With Apple silicon, the Mac experience is better than ever. We're a year into the transition.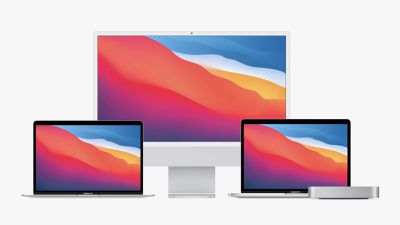 10:15 am: Response has been off the charts. Mac has had its best year ever. Today, we're bringing Apple silicon to even more systems. John Ternus with the details.
10:16 am: Starting with MacBook Pro, which appeals to people who want to most powerful Mac notebook.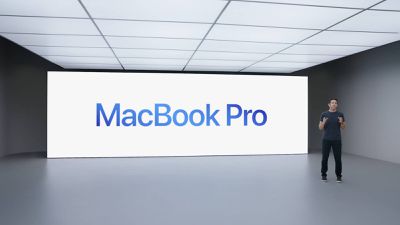 10:16 am: First pro chip designed for the Mac: M1 Pro.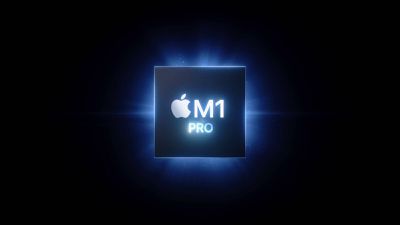 10:17 am: Johny Srouji to discuss the ‌M1 Pro‌.
10:17 am: The M1 has shocked the PC world, but some users need even more. ‌M1 Pro‌ is our next breakthrough chip for the Mac.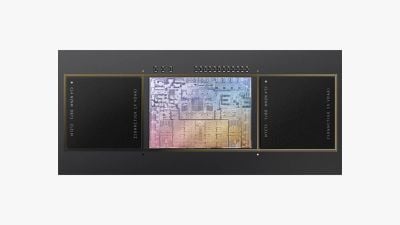 10:18 am: We've scaled up the ‌M1‌, doubled the width of the memory interface with up to 32 GB of unified memory.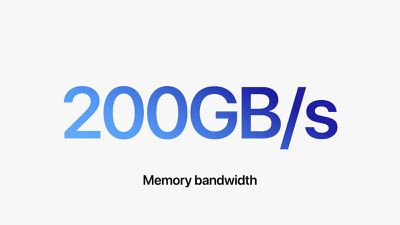 10:18 am: 5nm process, 33.7 billion transistors. 10-core CPU with 8 high-performance and 2 high-efficiency. 16 GPU cores, up to twice as fast as ‌M1‌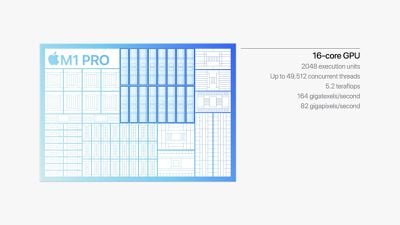 10:19 am: Media Engine with ProRes support.
10:19 am: Display Engine for multiple displays and more Thunderbolt I/O.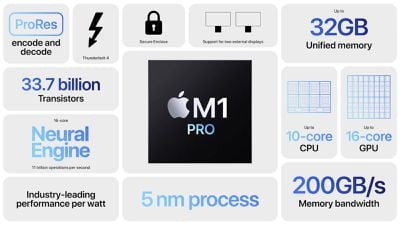 10:20 am: But we want to push things even further, so we're launching not just one, but two new chips. M1 Max.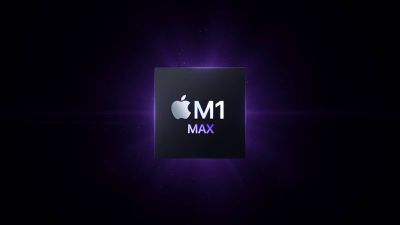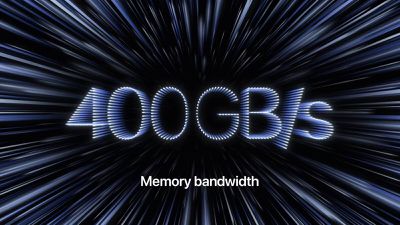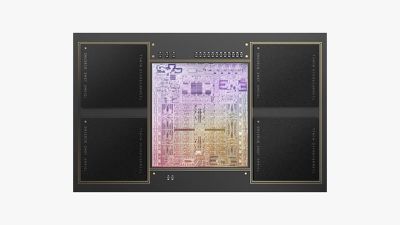 10:20 am: ‌M1 Max‌ builds on ‌M1 Pro‌ starts with doubles memory interface once again. Up to 400 GB/s, up to 64GB unified memory with 57 billion transistors. Same 10-core CPU, but 32-core GPU.
10:21 am: Even more capable Media Engine, and all of this at industry-leading performance per watt.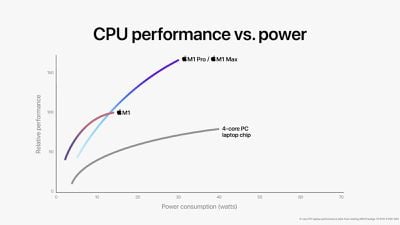 10:22 am: ‌M1 Pro‌ and Max have higher performance at every power level compared to PC chips.
10:22 am: Similar story with GPU. 7x faster than PC integrated graphics at same power. Similar performance to discrete graphics but with 70% less power.
10:23 am: Comparing to fastest PC laptop we could find. ‌M1 Max‌ uses 100W less power, but similar performance.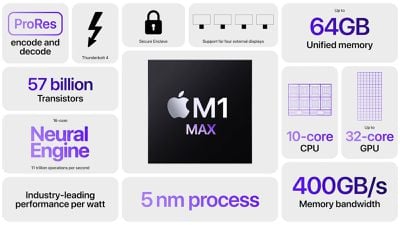 10:24 am: PC chips drop back performance while on battery, while ‌M1 Pro‌/Max stays fast.
10:24 am: Craig Federighi to talk about how macOS leverages ‌M1 Pro‌/Max.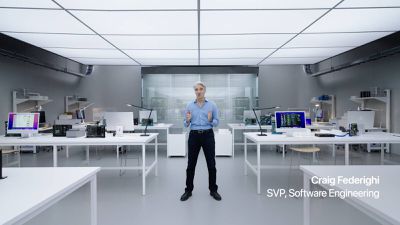 10:25 am: We've made improvements across the system to support the new chips. Allocating tasks across performance and efficiency cores, leveraging unified memory, etc.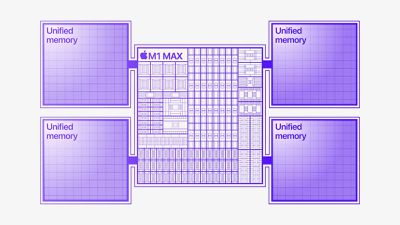 10:26 am: 3x faster ML performance, with some models performing 20x faster.
10:27 am: Let's talk apps. Users can way more of them, and they perform way better. Every Apple is optimized, and Rosetta 2 lets Intel apps keep working. iPhone and iPad apps, Universal apps, etc.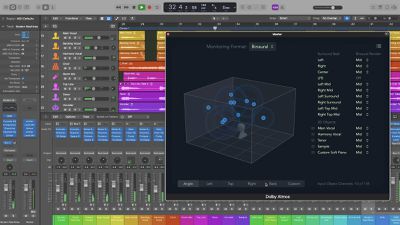 10:27 am: Logic Pro: musicians can create spatial audio mixes on a notebook.
10:28 am: Third-party developer video going over how they can take advantage of Apple silicon.
10:31 am: Back to John Ternus. ‌M1 Pro‌ and Max represent a huge leap forward, and our teams have been hard at work at new designs.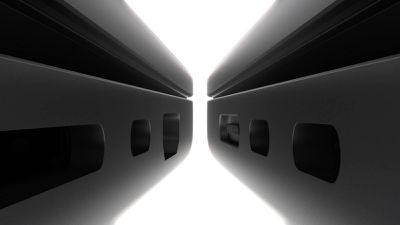 10:31 am: Teaser video for the MacBook Pro, which includes a notch!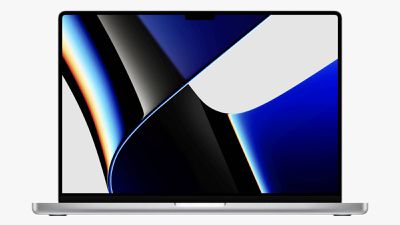 10:32 am: 14" and 16" models. HDMI, ‌MagSafe‌, SD card, slot.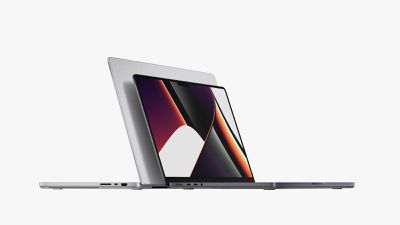 10:33 am: All-new aluminum enclosure with new thermal design. Fans never have to turn on for most tasks. 16.8 mm thin and 4.7 pounds for 16", 3.5 pounds, 15.5mm thin for 14".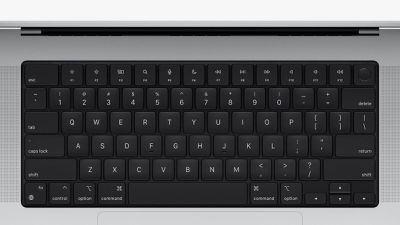 10:33 am: All-black keyboard with full-size function keys.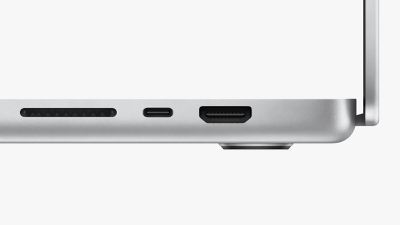 10:34 am: Connectivity: HDMI, Thunderbolt 4, SD card on right. Headphone jack, two more Thunderbolt 4, ‌MagSafe‌ 3 on left.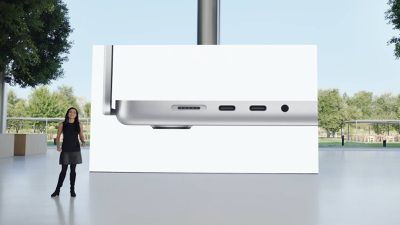 10:34 am: ‌MagSafe‌ 3 supports higher power, and you can still charge over Thunderbolt.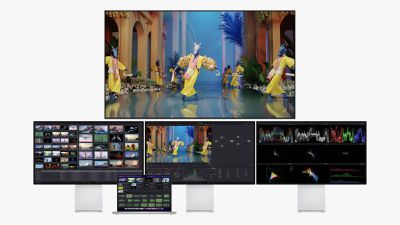 10:35 am: Breathtaking display, with Kate Bergeron to tell you more. Bezels are just 3.5mm on the sides. Expanded display up and around the camera.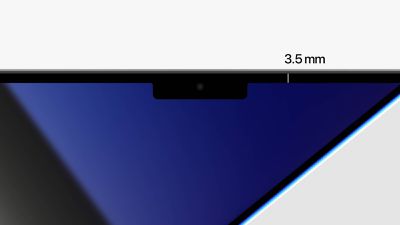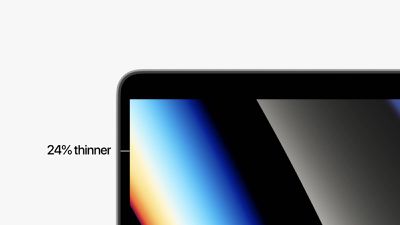 10:35 am: Menu bar is now up and out of the way, wrapped around the camera.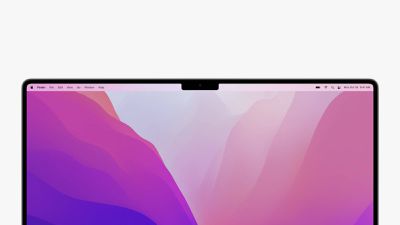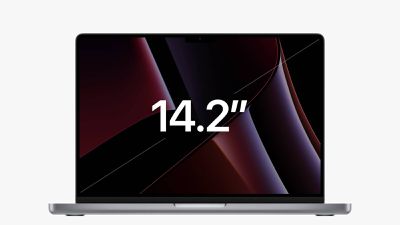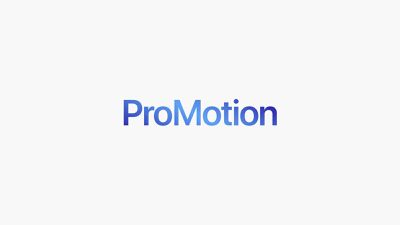 10:37 am: ProMotion with up to 120Hz refresh rate. Automatically steps down with static content to preserve battery life. Liquid Retina XDR with a billion colors.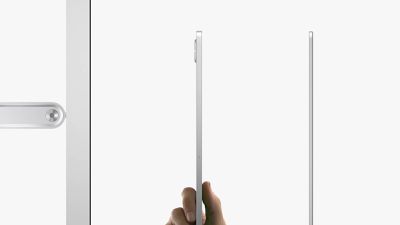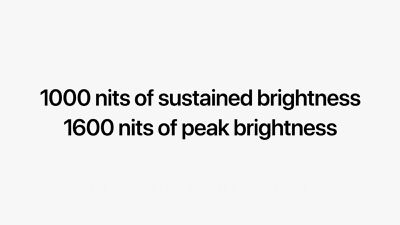 10:39 am: Trevor McLeod talking about the camera, which is now 1080p with wider aperture lens and more efficient ISP for 2x better low light performance.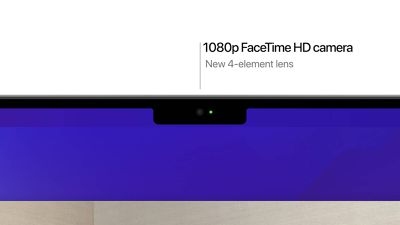 10:40 am: Now, let's talk about audio. Up to 60% lower noise floor on mics to capture subtlest sounds. 16" has two tweeters and four force-canceling woofers that displace twice as much air for 80% more bass that goes half an octave deeper. Same sound system on 14".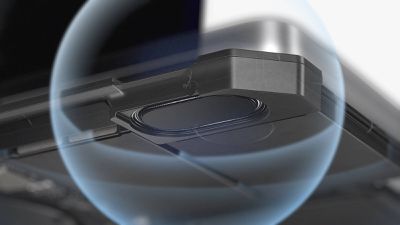 10:42 am: Talking performance. 16" with ‌M1 Pro‌ and ‌M1 Max‌ has up to 2x performance of previous generation with i9. Graphics up to 2.5x faster with Pro, 4x faster with Max.
10:43 am: Unified memory lets you tap into more for graphics. 3D artists can easily work with extreme textures, can edit up to 30 streams of ProRes 4K or 7 streams of ProRes 8K.
10:43 am: SSDs up to 7.4 GB/s read, more than twice as fast as before.
10:44 am: Battery life: Up to 2x longer with Lightroom, 4x longer for code compiling. 14" up to 17 hours of video playback, 16" up to 21 hours.
10:45 am: Fast charge up to 50% in just 30 minutes.
10:46 am: One more look at this beast of a machine with a video.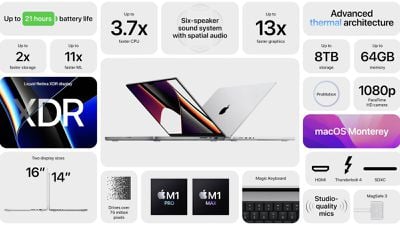 10:48 am: John Ternus summarizing MacBook Pro. Order today, available next week.
10:49 am: $1999 for 14", $2499 for 16" starting prices. Silver and space gray. Now back to Tim.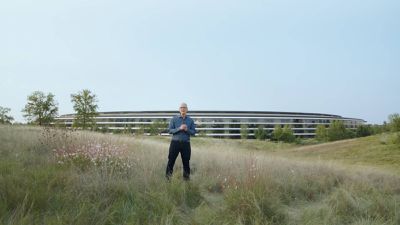 10:49 am: Tim is wrapping up.
10:49 am: Thank you for joining us. Stay safe, and have a great day.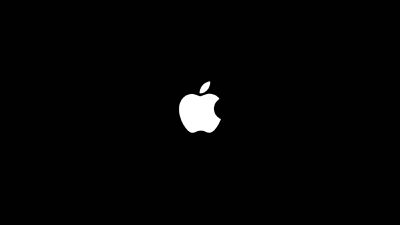 10:50 am: Stay tuned to MacRumors for even more coverage of today's announcements!