WWDC 2020: Complete Transcript of Apple's Keynote with iOS 14, macOS Big Sur, and More
Apple's first-ever all-online Worldwide Developers Conference (WWDC) starts today with the traditional keynote kicking things off at 10:00 a.m. Pacific Time.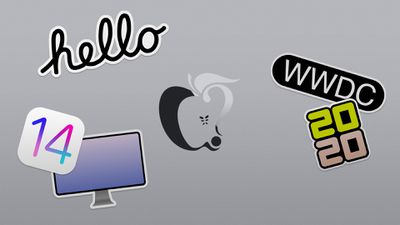 We're expecting to see a number of announcements, including iOS 14, macOS 10.16, watchOS 7, and tvOS 14, as well as an announcement about Apple's long-rumored transition of its Mac lineup from Intel processors to Apple-designed Arm-based chips. Last-minute rumors have indicated that hardware announcements are unlikely this year.
Apple is providing a live video stream on its website, on YouTube, and in the company's TV and Developer apps across its platforms. We will also be updating this article with live blog coverage and issuing Twitter updates through our @MacRumorsLive account as the keynote unfolds. Highlights from the event and separate news stories regarding today's announcements will go out through our @MacRumors account.

Live blog transcript ahead...
9:00 am: Apple's keynote kicks off in one hour, so stay tuned!
9:20 am: 40 minutes to go! In a normal year, attendees would be making their way into the main hall at McEnery Convention Center, but this is no normal year for WWDC.
9:52 am: Just a few minutes away now. Apple's live stream is up with some preliminaries...showing views from space with tiny Memojis floating around.

9:55 am: It's not clear where the keynote will be broadcast from, or even if it'll be live — we suspect the whole thing will be prerecorded, the better to avoid any "hiccups" since there won't be a live audience.
10:00 am: The memoji are spinning even faster, and it turns out that they're all using MacBooks. We're building up to the start, with an aerial view of Apple Park.
10:00 am: We're taking an AR-esque flight into the Steve Jobs Theater.

10:01 am: Tim Cook has walked on stage, with a Genius Bar black still sitting alone. "Good morning."
10:01 am: "We're all looking forward to a more hopeful tomorrow, which is why we wanted to make sure we had a WWDC this year."
10:02 am: "We want to welcome you to our home here at ‌Apple Park‌. I want to address the topic of racism, injustice and inequality."
10:02 am: "This country was founded on the principles of freedom and equality for all. For too many people and for too long, we haven't lived up to those ideas."
10:03 am: Tim is discussing the investments Apple is making to help encourage systemic change and encourage black developers.

10:04 am: Now talking about COVID-19, thanking healthcare workers and mentioning the "profound impact our products have had" to help people keep in touch with family and friends, to do work, and to keep entertained.

10:04 am: "This year, the conference will be available to our entire community of 23 million developers, as well as anyone who is interested, for free. This will allow us to be more inclusive than ever."
10:05 am: "Let's get started by sending it over to Craig."

10:05 am: Updates coming to every platform. iOS up first. "We're making it even more powerful and easier to use." iOS 14.

10:05 am: "Spent time rethinking some of the most iconic elements of the iPhone."


10:07 am: Home screen widgets and picture in picture on ‌iPhone‌ were the biggest features from the launch video.

10:08 am: "Wouldn't it be great if there were a way to organize all your apps without doing a thing?" The app library, automatically organizes apps into one simple to navigate view. Suggestions, Recently Added, Entertainment, Social, Apple arcade, Health & Fitness, etc, all auto-filled with apps. Can hide entire pages of apps, which will be shown in the App Library.
10:09 am: Some apps are shown larger than others, with most-used apps shown on the top level. Suggestions uses "on-device intelligence" to show commonly used apps. Intelligently curated categories help keep things organized. "We think this will make it easier than ever to get to your apps.

10:10 am: Next, widgets. A lot has changed since we first introduced widgets. We're reimagining the widgets experience. They're more beautiful and data rich. Available in different sizes, so you can choose one that best fits your needs. Swipe to Today view, and you can see colorful options in a variety of sizes. "We like these widgets so much, we wanted to make them even more accessible. You can drag widgets out of Today View and put them right on the Home Screen.


10:11 am: Tapping on a widget allows the user to change between the different sizes available from a particular app. A "Smart Stack" lets you swipe through widgets to pick the right one for the moment — but the Smart Stack can do this for you automatically. In the morning, it might show your News Briefing, and then during the day it could show you your Calendar. Then, in the evening, get a summary of Activity.
10:11 am: Picture-In-Picture is coming to ‌iPhone‌ as well, the implementation looking similar to that currently available on the iPad.

10:12 am: Can swipe PiP to the side, and audio will keep playing, though the video is hidden. Can be swiped back to the main screen. "It's a great way to continue enjoying your video, while tapping into everything else your ‌iPhone‌ can do for you.
10:12 am: Those are the big updates to iOS itself, but Siri is getting some help as well.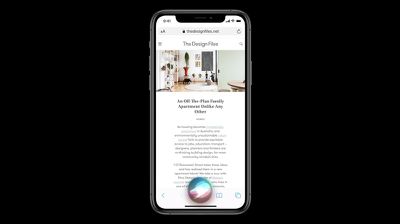 10:13 am: Currently, ‌Siri‌ takes over the entire screen. But now there's a new compact design, with a ‌Siri‌ image at the bottom of the screen. Interacting with ‌Siri‌ might pop up a notification box with Weather information rather than taking over the whole screen.

10:14 am: ‌Siri‌ has 20x more facts than 3 years ago. You can now ask ‌Siri‌ to send an audio message, and ‌Siri‌ will start recording automatically. You can also use speech recognition, and you can run dictation on-device, allowing for accuracy and privacy.


10:15 am: ‌Siri‌ is expanding translation to support a number of new language pairs, and ‌Siri‌ will now support full translation support across languages as well. There's a new app called Translate to do conversations in multiple languages on-device, completely offline. Can translate in real-time between any of 11 languages.
10:16 am: "Translate will make communicating between languages easier than ever before."
10:16 am: Messages has seen 40% increase in messages delivered over the past year, 2x in Groups.


10:17 am: You can now pin conversations, so they're easy to get to.
10:17 am: More Memoji updates, with 20 new hair and headwear styles. Face coverings have been added as well, plus more age options.


10:19 am: Inline replies are coming to Groups. View replies in full conversation, or view as a thread. Mentions are here too, and you can set it so you're only notified when you're mentioned. Can set group photos for a chat, too.

10:20 am: Maps. Apple Maps is the best way to navigate and explore the world, while protecting your privacy. Our new map finished rolling out through the US earlier this year. Maps has come a long way and people have noticed.
10:20 am: New map is coming to more countries, including the UK, Ireland, and Canada.
10:21 am: In iOS 14, we're making it easier to find great places and find new ways to get there.


10:22 am: Adding Guides, from third-party partners like Zagat, AllTrails, etc. "Best Pizza in New York" — also adds features to help users reduce their carbon footprint. Adding "Cycling" navigation options.

10:23 am: Lets users ride on bike lanes, paths, and roads. Takes altitude change into account, as well as busy or quiet roads, and can note whether to carry up stairs or avoid stairs altogether. Coming to NYC, LA, SF, Shanghai and Beijing, with more cities coming.
10:23 am: Adding EV Routing options for Maps. Maps will track your current charge, including elevation and weather, and will keep track of what chargers work with your car to make sure you have the correct chargers. BMW and Ford are partnering, with more OEMs to come.

10:24 am: Congestion and Green Zone support coming, to give alternate routing options for cities that restrict travel for some drivers in certain areas.
10:24 am: CarPlay is available in 97% of cars in the US. 80% worldwide.

10:25 am: New wallpaper options coming for ‌CarPlay‌, plus new categories of ‌CarPlay‌ apps. Parking, EV Charging, and food ordering. Now, rethinking car keys. They're big, bulky, and ripe for reimagining.

10:26 am: Digital version of car keys. The first car to support it will be the 2021 BMW 5 Series. Uses NFC to open the car, then put the phone on the charging pad and you can start the car. The key is stored in the Secure Element of the phone, and can be disabled via iCloud if your phone is lost. Keys can be shared via iMessage.

10:27 am: The new BMW will be available to customers next month. In addition to adding this feature to iOS 14, it'll be in iOS 13 too. We want this to work in any car, so we've been working on standards with industry groups. We want to allow the U1 chip to securely unlock and start your car, so the phone can be anywhere in the car. We hope to start this next year in cars.


10:30 am: There's a new feature called App Clip, which is a small part of an app. Instead of downloading an entire app, you can just download a small part of it to do things like pay for parking or make payments. With Sign In With Apple and Apple Pay, you can rent a scooter or make a payment extremely quickly. "It's all about getting to the part of an app the moment you need it." They can be launched from the web, from a restaurant listing in Maps, etc.
10:31 am: Made it possible for apps like Yelp to create App Clip experiences for each restaurant. They're all less than 10MB, so they download fast. Immediately discoverable, small in size so they launch fast, ‌Apple Pay‌ and Sign In With Apple, plus the option to download the full app from the App Store.

10:31 am: Now moving on to iPadOS.

10:33 am: iPadOS 14! Unique made-for-iPad designs that take advantage of the large, multitouch display. Extending the design language of ‌iPad‌ to make things more streamlined and more powerful.


10:34 am: Same redesigned widgets from iOS 14 are coming to ‌iPad‌. Photos gains a new sidebar, looks much like the sidebar in ‌Photos‌ for Mac.

10:35 am: New toolbars and drag and drop functionality across a number of Apple's standard ‌iPad‌ apps.
10:35 am: New full-screen music player, with rich album art and lyrics in one view.


10:36 am: Minimalist ‌Siri‌ experience coming over from iOS 14, and other notifications like incoming calls are getting small, notification-esque windows instead of a full-screen takeover.

10:36 am: Call notifications coming to iOS 14 as well.
10:37 am: Search has been redesigned to be universal. Works as an app launcher, or to make calls, or search within apps like Mail and Files. It's... Spotlight from the Mac, basically.


10:39 am: Handwriting on the ‌iPad‌ will be just as powerful as typed text. "Scribble" is coming to ‌iPad‌. Hand-write in any text field and it'll automatically be converted to text.


10:39 am: Hand-drawing shapes will automatically change to standard shapes.
10:40 am: Can double-tap on written text to select and copy it. Change it, move it around, etc.

10:41 am: Scribble can recognize both English and Chinese, and can use data detectors to detect phone numbers and addresses.


10:42 am: AirPods updates. Automatic switching allows AirPods to seamlessly move between devices without manually switching them.

10:43 am: AirPods Pro are gaining spatial audio — AKA surround sound.

10:44 am: For an authentic surround sound experience, the sound field needs to stay fixed even when you move your head. Use accelerometer to track the motion of your head, remapping the sound field so it stays anchored to your device even as your head moves.
10:44 am: If your bus turns the corner or your plane banks, you surround sound stays in sync.
10:44 am: Supports 5.1, 7.1, and Dolby Atmos.

10:45 am: Apple Watch updates next.
10:46 am: In watchOS 7, apps can enable multiple complications at one time.


10:47 am: Configuring watch faces has been redesigned, to make choosing complications much easier. WYSIWYG watch face setup.
10:47 am: Face Sharing is here, with curated faces from the ‌App Store‌, a website, or to receive watch faces from friends and family.


10:48 am: Maps on Apple Watch is also gaining cycling directions, like iOS 14. Will include features like notes about dismounting and walking a bike, or using stairs.
10:50 am: Workout is gaining Dance as a workout type. Tracks some of the most popular styles of dance for fitness. Uses accelerometer and gyroscope to know whether you're dancing with just the lower half, upper half, or whole body. Also, functional strength training, cooldown, and others.


10:50 am: Activity app is being renamed Fitness.
10:50 am: Sleep Tracking!

10:51 am: Helps to make recommendations about waking up and when to go to sleep.



10:53 am: Uses machine learning to sense motion, and micro motions from rise and fall of the breath. New sleep section in the health app, including view of trends over time. Schedule, Wind Down, and Sleep Mode are available on ‌iPhone‌ without a watch as well.

10:54 am: In WatchOS 7, Apple Watch will give automatic detection for hand washing and sensing how long you actually wash. Can use audio to confirm the sound of running water or squishing soap. Will give coaching on the watch, including haptic and sound to confirm you wash as long as you should. At the end, you'll see, hear, and feel that you've washed for long enough.

10:55 am: On to Privacy. "We believe Privacy is a fundamental human right."

10:55 am: Privacy principles:
Data minimization
On-device intelligence
Security protections
Transparency and control

10:56 am: These principles come together across our products. Hardware, software, and services.
10:56 am: 200 million Sign In With Apple accounts created.





10:58 am: For location sharing, users will now be able to share approximate location, instead of always sharing exact location. Adds a light for microphone and camera sharing as well. Adds tracking control for websites. Must ask before tracking you across websites. For apps, privacy policy summaries will be available on the ‌App Store‌ before an app is downloaded.

11:00 am: New features for Home. There's a new alliance with Amazon, Google, and other industry leaders for a new standard.

11:01 am: In iOS 14, adding a new accessory will prompt new automations. In the Home app, it'll show accessories that might need your attention right at the top of the app.
11:02 am: Smart bulbs will now have Adaptive Lighting, letting colors automatically change throughout the day.


11:03 am: With Homekit secured video, your cameras are private. Activity zones let you focus on certain areas, and facial recognition let you know who is at your door. HomePod can announce who is at the door. Apple TV can put a picture-in-picture video of the camera on your ‌Apple TV‌.

11:04 am: ‌Apple TV‌ gaining multi-user support for Apple Arcade. Adding support for Xbox Elite 2 and Xbox Adaptive controllers. Picture-in-picture support.

11:05 am: Apple TV+ Coming to Sony and Vizio smart TVs later this summer.
11:05 am: Isaac Asimov's Foundation coming to ‌Apple TV+‌.


11:07 am: Next, macOS.

11:09 am: Apparently Apple's marketing gurus go on drug-fueled minibus vision quests to name their releases. Hence, macOS Big Sur.
11:09 am: The biggest change since the introduction of macOS X.

11:11 am: This OS reflects an important history. It's familiar, but also entirely new in every detail.

11:11 am: There's a new design, familiar but clearly inspired by iOS as well.





11:16 am: Messages on Mac is getting an update in Big Sur. "Taking Messages to the next level." — New Search, Photo picker, Memoji stickers, Messages effects, pinned conversations (saved across devices).

11:17 am: Maps update, gaining favorites, Guides, indoor maps, Look around, ETA of friends and their current locations, plus all the other features introduced in Maps for iOS 14.

11:18 am: Mac Catalyst updates, allowing for optimization for full resolution of the Mac screen. New capabilities like menu and keyboard APIs, date pickers, and more. Made new Maps and Messages apps with Catalyst.

11:20 am: Biggest update to Safari since it was first introduced. Page load performance is on average more than 50% faster than Chrome, plus industry-leading battery life. Safari was the first browser to implement private browsing. We want to give users more visibility into how websites try to track them. There's a privacy report button in the toolbar, to see how sites are using their pages. Safari securely monitors saved passwords to make sure they haven't been compromised in a data breach. Extensions adopting new standard, so you can bring over extensions from another browser.

11:21 am: In other browsers, Extensions can see everything you do, every page, everything you type, etc. Can give extensions access just for a day, on a certain website, or for every website.
11:21 am: Native-translation capabilities built in to Safari.



11:24 am: Tabs use favicons to help organize, while hovering over a tab shows you a preview of a page. Additional cleanup modes for closing tabs.


11:25 am: For years, deep below the surface, we've been working on something truly profound...
11:26 am: We've been working on some really big changes to take the Mac to a whole new level.

11:26 am: The Mac has always been about embracing big changes to stay at the forefront of personal computing. We moved to PowerPC, to MacOS X, and the move to Intel. Now it's time for a huge leap forward for the Mac.
11:26 am: We're announcing that the Mac is transitioning to our own Apple silicon.

11:27 am: At Apple, integrating hardware and software is fundamental to everything we do. Silicon is at the heart of our hardware. Having a world-class silicon design team is a game changer.
11:28 am: We've been working and refining our Apple Silicon for more than a decade.

11:28 am: The ‌iPhone‌ demanded capabilities that were seen as impossible in a device that small. We focused on performance per watt, and improved performance and energy efficiency. Ten generations of new designs, always improving performance. CPU performance has improved by 100x.
11:29 am: While ‌iPhone‌ chips could drive the ‌iPad‌, we wanted to push the ‌iPad‌ even further. The ‌iPad‌'s retina display demanded a custom chip. So designed A5X, then other X chips specifically designed for the ‌iPad‌. Wider memory subsystem and new GPUs. 1000x graphics performance in ten years.
11:30 am: Adding all of the processors across ‌iPhone‌, ‌iPad‌ and Apple Watch, we've shipped 2 billion SoC chips.
11:31 am: We're bringing all that expertise and disciplined approach to the Mac. A whole new level of performance, including power. All systems are constrained by power consumption, thermal, or both. Desktops consume most power but high performance. Notebooks are more efficient, but lower performance.


11:31 am: Building on our years of experience designing the world's most efficient mobile chips, we want highest performance with lower power usage. Our scalable architecture includes many custom technologies that will bring even more innovation to the Mac. With advanced power management, we will maximize battery life better than ever before. Secure Enclave will maximize security.
11:32 am: Family of Mac SoCs designed specifically for Macs. Unique features and performance, plus a common architecture across all product lines.


11:33 am: Tight integration of silicon with the software, including demanding pro apps including Final Cut and Logic are up and running on the custom chips.

11:34 am: Microsoft is working on Office for Mac, and Adobe is working on Creative Cloud.

11:35 am: Test machine running on "Apple Development Platform", using Apple A12Z Bionic processor that's used in the iPad Pro. All Apple's apps running on it. Office is up and running natively on the new Macs. "Word runs great."

11:36 am: Photoshop and Lightroom running on ‌Apple Silicon‌.
11:37 am: The About This Mac screen shows macOS Big Sur is Version 11.0.

11:37 am: Final Cut Pro running on ‌Apple Silicon‌, including 4K video, with filters running in real time.
11:38 am: The transition to ‌Apple Silicon‌ is also excellent for developers who have optimized apps for other Apple products.

11:39 am: We're doing some really important things to make this transition seamless for users. We want to make sure users can run all of their apps on day one, even if apps haven't been updated. We've been down this road before. A cornerstone of the Intel transition was Rosetta, allowing PowerPC programs to run on Intel Macs. Rosetta 2 will translate existing Intel apps to run on ‌Apple Silicon‌. Even faster, more compatible. Translates apps on install. Can translate code on the fly when needed for just-in-time compilers. Transparent to users.

11:39 am: New virtualization technologies, to help developers run other environments like Linux.


11:40 am: Showing Maya running on ‌Apple Silicon‌, via Rosetta 2.
11:41 am: Showing Shadow of the Tomb Raider running on Rosetta 2, downloaded straight from the Mac App Store.
11:42 am: Now showing Linux running in a Parallels VM.
11:42 am: Can also run ‌iPhone‌ and ‌iPad‌ apps natively and unmodified.
11:43 am: Starting day one, users can download ‌iPhone‌ and ‌iPad‌ apps right from the ‌Mac App Store‌.
11:44 am: Launching a Quick Start program, to help developers make their apps universal and take advantage of ‌Apple Silicon‌.

11:44 am: Developer Transition Kit hardware. Is a Mac mini with an A12Z SoC, 16GB memory, 512GB SSD, and the macOS Big Sur developer beta.
11:44 am: Developers can apply to the program today. Shipping units starting this week.
11:45 am: Every time we've done this, the Mac has come out stronger and more capable.


11:46 am: The developers get the DTK this week. For customers, we expect to ship our first Mac with ‌Apple Silicon‌ by the end of this year. We expect the transition to be complete within two years.

11:46 am: OS releases come out as developer betas today, with public betas (including WatchOS) starting in July. All the software will be released this fall.
11:47 am: "Thanks to you all for joining us. This has been such a big day, and it's just the beginning of a huge week to come. So, let's have a great WWDC!"