iPhone 11 and 11 Pro Will Show Warning if Non-Genuine Apple Display is Used for Repairs
Apple's iPhone 11, ‌iPhone‌ 11 Pro, and iPhone 11 Pro Max will offer up a new warning if a repair technician ever uses a non-genuine Apple display when repairing a broken device.
"Unable to verify this ‌iPhone‌ has a genuine Apple display" will show up in the General > About section of the Settings app if a repair shop uses an unverified display component.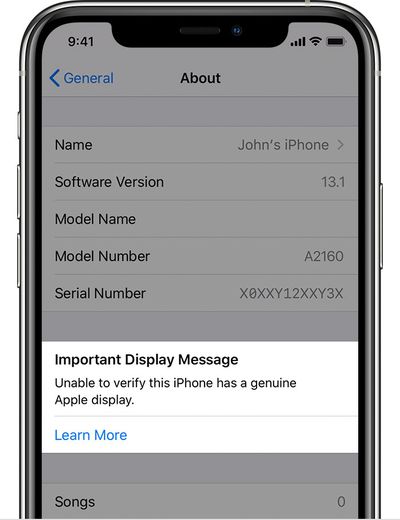 The warning message was outlined by Apple in a new support document that says it will show up on ‌iPhone‌ 11, ‌iPhone‌ 11 Pro, and ‌iPhone 11 Pro Max‌ devices. Details about the message were also included in the iOS 13.1 release notes, suggesting the feature was enabled with the iOS 13.1 update.
Apple says that the warning is informational only and will not affect the ability to use your ‌iPhone‌ or your display. A notification will be displayed on the Lock screen for the first four days a device is used following the repair, and in the Settings app for 15 days after that before being limited to General > About.
An additional notification may also be displayed, letting users know that Apple has "updated the device information" for the ‌iPhone‌ in question. The notification means that Apple has updated the device info maintained for the ‌iPhone‌ for "service needs, safety analysis, and to improve future products."
Given that the information is added to a device profile of some kind, Apple repair technicians will be able to see at a glance if a display is genuine or not.
Apple's support document warns of the dangers of getting a repair from a non-certified technician using a non-genuine repair part. Parts not provided by Apple could result in degraded multi-touch performance, broken True Tone functionality, unintentional battery drain, incorrect color correction, non-uniform brightness, and more.
"Only technicians who have completed Apple service training and who use Apple genuine parts and tools should replace ‌iPhone‌ displays," warns the support document. Apple says that this includes Apple itself, Apple Authorized Service Providers, and Independent Repair Providers using genuine Apple parts.
Apple in August launched a new Independent Repair Provider Program that's designed to provide independent repair shops with the same genuine parts, tools, training, repair manuals, and diagnostics provided to Apple Authorized Service Providers.
Apple last year implemented a similar warning about non-genuine batteries in ‌iPhone‌ XS, XS Max, and XR devices, letting customers know if an ‌iPhone‌ has been repaired with an Apple provided battery. That feature actually disables the battery health information of the ‌iPhone‌, which caused some controversy.
An updated battery support document released this week says that the battery warning has also been implemented for the ‌iPhone‌ 11, ‌iPhone‌ 11 Pro, and ‌iPhone 11 Pro Max‌.


On these devices, along with the 2018 iPhones, if a non-genuine Apple battery is used for a repair, users will see a warning about the battery not being able to be verified.
When it comes to batteries, the iPhones pop up the warning even if a non-certified repair shop uses a genuine Apple repair component, and the same could be true for display repairs. Even if a shop is using an actual Apple component, Apple's repair process requires calibration not available to all repair shops.
No functionality is impacted by using non-genuine parts (aside from battery health not working), but Apple could potentially change this in the future. In the past, Apple has disabled some devices that had non-genuine parts, such as the major Error 53 issue that bricked Touch ID iPhones that had been repaired by non-certified repair shops.