Users Facing 'Error 53' Bricking Message After Third-Party iPhone 6 Home Button Repairs
Some iPhone 6 users who had their smartphones repaired by third-party technicians are reporting that a mysterious "error 53" message is permanently bricking their iPhones (via The Guardian). Users who have had Touch ID on their iPhone 6 fixed by a non-Apple technician, and agreed to update the iPhone to the most recent version of iOS, are facing an issue which essentially prevents all access to the iPhone.
Freelance photographer Antonio Olmos is one such affected iPhone 6 user who had his iPhone repaired in Macedonia while working. He said "it worked perfectly" after the repair shop finished fixing the broken screen and home button, but once he updated to iOS 9 he got an "error 53" message and could no longer access any of his personal content on the iPhone. An Apple Store in London was shown the issue, and staff there admitted there was nothing they could do for him besides sell him a new iPhone.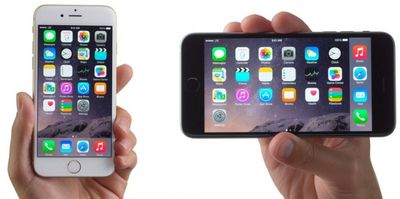 "The whole thing is extraordinary. How can a company deliberately make their own products useless with an upgrade and not warn their own customers about it? Outside of the big industrialized nations, Apple stores are few and far between, and damaged phones can only be brought back to life by small third-party repairers," Olmos said. "I am not even sure these third-party outfits even know this is a potential problem."

Speaking with The Guardian, iFixit's Kyle Wiens said that the issue, while still unclear, appears to be Apple ensuring only genuine components are being used for repairs. Once a third party changes the home button or internal cable, the iPhone checks to be sure that all original components are running the phone, and if there are any discrepancies users face the "error 53" message and can't access their data. Since mentions of "error 53" span a few versions of iOS, it's unclear specifically which software update began the phone-locking error message.
An Apple spokeswoman commented on the issue, referring to protective security features intended to prevent "malicious" third-party components from potentially compromising a user's iPhone as the main reason for the "error 53" message.
"We protect fingerprint data using a secure enclave, which is uniquely paired to the touch ID sensor. When iPhone is serviced by an authorised Apple service provider or Apple retail store for changes that affect the touch ID sensor, the pairing is re-validated. This check ensures the device and the iOS features related to touch ID remain secure. Without this unique pairing, a malicious touch ID sensor could be substituted, thereby gaining access to the secure enclave. When iOS detects that the pairing fails, touch ID, including Apple Pay, is disabled so the device remains secure."

She adds: "When an iPhone is serviced by an unauthorized repair provider, faulty screens or other invalid components that affect the touch ID sensor could cause the check to fail if the pairing cannot be validated. With a subsequent update or restore, additional security checks result in an 'error 53' being displayed … If a customer encounters an unrecoverable error 53, we recommend contacting Apple support."
Other than that, Apple hasn't commented on the issue or outlined exactly what the company can do for those affected by the iPhone bricking error message. Mentions of "error 53" have been around since at least last April, where some users have encountered the issue in software updates as early as iOS 8.3.