Supply Chain Expects New 16-Inch MacBook Pro, 13-Inch MacBook Pro, and MacBook Air to Launch in October
Apple plans to release an all-new 16-inch MacBook Pro in October, according to supply chain sources cited by Taiwan's Economic Daily News.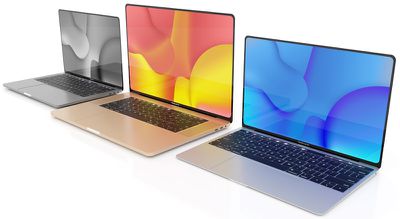 The report claims the 16-inch display will be a LCD with a 3,072×1,920 resolution, supplied by LG, matching information shared by IHS Markit analyst Jeff Lin last month. The notebook is expected to be mass produced by Foxconn and Quanta, two of Apple's largest manufacturing partners.
The supply chain sources cited also expect Apple to refresh the 13-inch MacBook Pro and MacBook Air in October, but no further details were provided about those models. This also mirrors the previous report from IHS Markit.
Absent from the report is any mention of a new 15-inch MacBook Pro. Since 2016, Apple has refreshed the 13-inch and 15-inch MacBook Pro simultaneously, so the big question is whether the 16-inch model will immediately replace the 15-inch model or start off as an additional top-of-the-line configuration.
Of course, the 15-inch model could come later. Apple's last staggered MacBook Pro release was in 2015, when 13-inch models launched in March and 15-inch models followed in May. The timing is typically dictated by Intel's processor roadmap, at least until Apple switches to ARM as rumored.
Apple just updated the higher-end 13-inch and 15-inch MacBook Pro in May, and it refreshed the entry-level 13-inch MacBook Pro earlier this month, so new models in the fall would certainly be soon. Apple has refreshed its entire MacBook Pro lineup twice in a year only once before in the Retina era, in 2013.
As for the ‌MacBook Air‌, it was also refreshed earlier this month, but the only hardware changes were the addition of a True Tone display and an updated keyboard material for improved reliability, so a processor bump is certainly a possibility in October, one year after the notebook was significantly redesigned.
Early this month, analyst Ming-Chi Kuo said a new MacBook Air with a scissor keyboard would launch in the second half of 2019, but it is unclear if it is still coming. He also called for a new MacBook Pro with a scissor keyboard in 2020, completing its transition away from its troubled butterfly keyboard.
Likewise, 16-inch MacBook Pro rumors began with Kuo. Back in February, he said the notebook would launch at some point in 2019 with an "all-new design." He has not shared any further details since, but a recent supply chain report said mass production would begin in the fourth quarter of this year.
When reading into supply chain rumors, it is often better to look at the "what" rather than the "when." While suppliers may know about new products based on components and schematics, timing is harder to predict. In this case, October is likely just a prediction given Apple often hosts a Mac event that month.
The key takeaway is that 16-inch MacBook Pro rumors are now surfacing frequently, so there is a good chance the notebook is real. Whether it launches in the fall, next year, or later remains to be seen.