While things have calmed down from the frenzy of Apple's Worldwide Developers Conference, there was still lots of news over the past week, so read on for all of the top stories.

Less than a month after refreshing its MacBook Pro lineup with faster processors and a revamped keyboard design, Apple has registered seven unreleased Mac notebooks in a Eurasian database.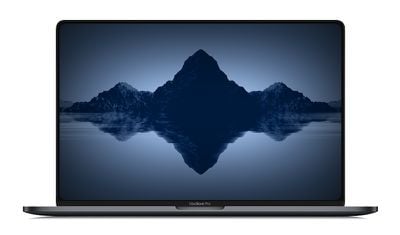 MacRumors mockup of rumored 16-inch MacBook Pro
The listings don't reveal exactly which models these will be or when they will launch, but the 12-inch MacBook is certainly long overdue for an update and the MacBook Air could be in line for a spec bump soon enough. Rumors also suggest that Apple plans to release a
16-inch MacBook Pro with an all-new design
as early as this year.
Over on our YouTube channel this week, we've taken a look at more than 20 lesser-known or hidden features coming to the iPhone in iOS 13.


The first public beta of iOS 13 will be available in July, allowing anyone who signs up for Apple's free beta testing program to try out these features before they are released to all users in September.
We also have a hands-on video of iPadOS, which has iPad-specific features such as a redesigned home screen and overhauled multitasking. Subscribe to MacRumors on YouTube for new Apple videos every week!

While the iPhone XR already has the longest battery life of any iPhone ever, the 2019 version of the device is rumored to feature an even larger battery.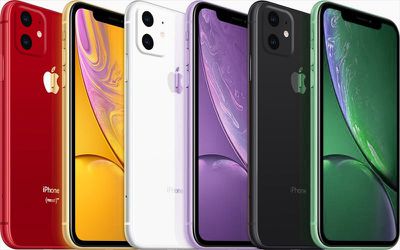 MacRumors mockup of 2019 iPhone XR in new green and lavender colors
The increased battery capacity is expected to
accommodate a two-way charging feature
that will allow devices like the Apple Watch and AirPods to wirelessly charge on the back of all 2019 iPhones.
The next iPhone XR is also expected to sport a dual-lens rear camera and come in new green and lavender colors.

Earlier this week, Apple's homepage briefly revealed that its new Mac Pro and Pro Display XDR were both "coming in September."


Apple has since changed the wording to a less-specific "coming this fall," so it's unclear if September was a mistake or if that will be the actual release month. Apple hasn't provided an explanation.
The all-new Mac Pro is an absolute powerhouse with up to 28-core Intel Xeon processors, up to 1.5TB of ECC RAM, up to 4TB of SSD storage, and the option for the "world's most powerful graphics card."

Wouldn't it be nice if Siri on the iPad didn't take over the entire display when prompted?
According to Apple's software engineering chief Craig Federighi, that's a real possibility. In an email to a customer, he said Apple will consider making Siri less disruptive on the iPad in the future.

iPad concept of improved Siri behavior (image via iHelp BR)
Siri on the Mac would be a good starting point, as it only takes up a small overlay in the top-right corner of the desktop when prompted.
On a recent episode of the AppStories podcast, Apple's software engineering chief Craig Federighi made a tongue-in-cheek comment about the iPad's long-awaited external drive support.


"External drives. We're willing to acknowledge the 1990s and go all the way back," he quipped. "You know, people still use them sometimes. I'm an AirDrop fan myself, but I understand there are other uses…"
The full interview is a worthwhile listen, with Federighi discussing several WWDC announcements.

Goodbye, Dashboard.
Apple this week removed Dashboard support from Safari's open source WebKit engine, not long after it was discovered that the feature has been completely dropped in macOS Catalina.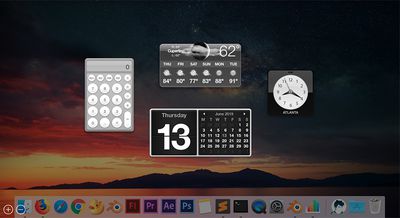 Dashboard, first introduced by the late Steve Jobs as part of OS X Tiger in 2005, was effectively a secondary desktop on the Mac that housed a variety of customizable widgets, ranging from sticky notes and the weather forecast to a clock and a calculator.
After over 14 years, the feature is about to ride off into the sunset for good.

MacRumors Newsletter
Each week, we publish an email newsletter like this highlighting the top Apple stories, making it a great way to get a bite-sized recap of the week hitting all of the major topics we've covered and tying together related stories for a big-picture view.
So if you want to have top stories like the above recap delivered to your email inbox each week, subscribe to our newsletter!