Two-Way Wireless Charging and Larger Batteries Coming to 2019 iPhones
Apple's 2019 iPhones are going to have a two-way wireless charging feature that will allow the iPhone to charge other devices like the AirPods, Apple analyst Ming-Chi Kuo again confirmed in a report sent out to investors today.
Kuo previously mentioned the feature briefly in a February note, and today he goes into a bit more depth about the suppliers who will benefit from the feature.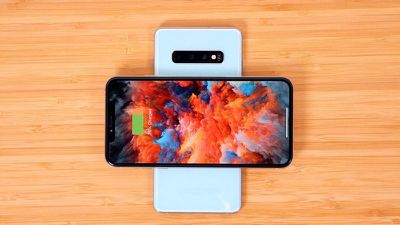 Two-way wireless charging as demonstrated in the Galaxy S10+


Two-way wireless charging, or bilateral charging, will let the Qi-based iPhones coming in 2019 charge another ‌iPhone‌ or the new AirPods with Wireless Charging Case. You'll essentially be able to charge any Qi-based device with your ‌iPhone‌, as it will work as a wireless charger itself. From Kuo:
We expect the new 2H19 iPhone models will support two-way wireless charging. Though the iPhone is not the first high-end smartphone to be equipped with two-way wireless charging, this new function could make it more convenient for users to charge the new AirPods and create a better integrated user experience of the iPhone and AirPods.
This is a feature that Samsung has already debuted in its 2019 Galaxy smartphones, and in those devices, it's known as Wireless PowerShare. Wireless PowerShare allows the 2019 Galaxy smartphones to charge other Qi-based accessories, including the ‌iPhone‌.
According to Kuo, suppliers such as Compeq (will supply battery boards) and STMicro (will supply two-way wireless charging controller) stand to benefit from Apple's inclusion of two-way wireless charging as it will increase the average selling price of key components.
To accommodate two-way wireless charging, Kuo believes battery boards included in 2019 iPhones will increase in size, as will battery pack capacity. Kuo says that battery capacities for the 6.5-inch ‌iPhone‌ XS Max successor could increase by 10 to 15 percent, while the battery capacity of the 5.8-inch OLED ‌iPhone‌ XS successor could grow by 20 to 25 percent. The ‌iPhone‌ XR successor isn't expected to see much of a gain, though, with Kuo predicting growth of 0 to 5 percent.