Razer today announced the launch of the Razer Core X Chroma, a new addition to its eGPU lineup.
The Razer Core X Chroma improves on the existing Core X eGPU with a new 700W power supply, additional ports, and customizable Razer Chroma lighting, which Razer is known for. Chroma lighting can reproduce more than 16 million colors and is used in Razer products from keyboards to notebooks.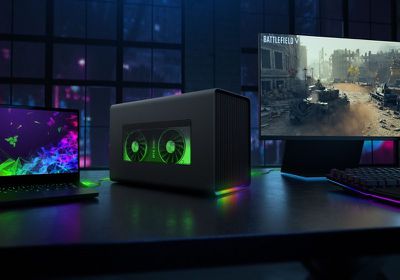 Like other Razer eGPUs, the Razer Core X Chroma is compatible with Thunderbolt 3-equipped PCs and Macs, including Apple's Thunderbolt 3 notebooks. Razer eGPUs are designed to give notebook owners a way to play desktop class games and take advantage of a more powerful GPU for GPU-intensive tasks.
The Razer Core X Chroma is compatible with a range of desktop PCIe graphics cards, including NVIDIA GeForce RTX, GeForce GTX, and Quadro cards along with AMD XConnect-enabled Radeon and Radeon Pro cards.
Razer is using the same general enclosure design for the Core X Chroma, with a black aluminum casing that features a side window to show off the colored lighting. Graphics cards can be inserted using a simple drawer-style slide and lock mechanism and a single thumbscrew.
There's a Gigabit Ethernet port included, along with four USB 3.1 Type-A ports. It supports up to 3 slot-wide desktop graphics cards that require up to 500W of power, and for Macs, it supplies up to 100W of power for charging purposes.
Razer is pricing the new Core X Chroma at $400, and it is available for purchase from the Razer website starting today.