WSJ: Apple Music Has Overtaken Spotify in U.S. Paid Subscribers
Apple Music has surpassed Spotify's paid subscriber count in the United States, according to sources familiar with the matter who spoke with The Wall Street Journal. The shift reportedly happened earlier in 2019; Apple had more than 28 million U.S. subscribers in February compared to Spotify's 26 million paid U.S. subscribers.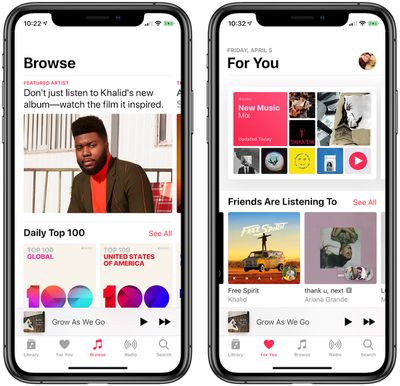 Similar news broke last summer from an industry source, but now months later the WSJ is corroborating the report. According to the paper, ‌Apple Music‌ has been adding subscribers "more rapidly" than Spotify, with a monthly growth rate of 2.6 to 3 percent, compared to 1.5 to 2 percent for Spotify.
‌Apple Music‌ is starting to see growth in areas outside the United States as well:

Apple Music is growing faster globally—at a rate of about 2.4% to 2.8%, compared with Spotify's 2% to 2.3%—and the gap is starting to close in other markets outside the U.S., according to the people familiar with the numbers.
The numbers reported today refer only to paying subscribers and exclude any user on the ‌Apple Music‌ three-month free trial or the Spotify ad-supported subscription tier. If the figures did include the free tiers, Spotify does have many more users overall in the United States.
In February 2018, the WSJ predicted that ‌Apple Music‌ would soon overtake Spotify in the U.S., but thanks to Spotify's numerous bundle offerings with Hulu and Showtime, Spotify remained in the lead for a while longer. ‌Apple Music‌ does offer discounts for families and students, but has yet to partner with another streaming video company to offer a bundle like Spotify.
Apple has become increasingly focused on its services business in recent years, given their high profitability thanks to monthly and/or yearly subscription costs. ‌Apple Music‌ debuted in 2015 at $9.99/month, but the company also offers iCloud storage at various price levels, and just launched Apple News+ at $9.99/month. Later in 2019, users will have a chance to sign up for Apple Arcade and Apple TV+, both of which have not yet been given price points.