In late November, Apple launched a limited time promotion that offers up to $100 in additional credit when trading in an iPhone 6 through ‌iPhone‌ 8 towards the purchase of a new ‌iPhone‌ XS or ‌iPhone‌ XR in the United States.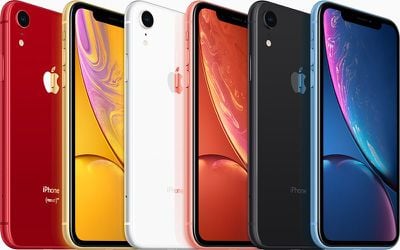 Apple expanded the promotion to additional countries in late December. While no end date has been set in the United States, fine print on Apple's regional Chinese website reveals that the extra credit will be available through March 25, 2019 in China, an extension of the previous February 28 end date in Japan.
March 25 happens to be the rumored date of Apple's next event, where it is expected to announce new subscription-based news and streaming video services — although March 25 in China is March 24 in the United States due to time zone differences.
The promotion is available at Apple Stores in participating countries. It is also offered on Apple.com and with monthly payments in the United States. With the monthly payment option, customers can get a new ‌iPhone‌ XR for as low as $18.99 per month or a new ‌iPhone‌ XS for as low as $29.99 per month for 24 months.
If paying in full, the ‌iPhone‌ XR and ‌iPhone‌ XS start at $449 and $699 respectively with the trade-in of an ‌iPhone‌ 7 Plus or ‌iPhone‌ 8 in the United States.
Apple has been heavily promoting ‌iPhone‌ XR and ‌iPhone‌ XS trade-ins with a prominent banner on the homepage of its website, store signage, App Store editorials, emails to older ‌iPhone‌ users, and more since the smartphones launched last year.
In a letter to shareholders last month, Apple said it saw fewer iPhone upgrades than it anticipated last quarter, primarily due to greater than expected economic weakness in the Greater China region. Apple said making smartphone trade-ins at its stores easier is one step it is taking to improve results.