Apple Extends iPhone XR and iPhone XS Trade-In Promotion to Europe, Canada, Australia, China, Japan, and Elsewhere
Apple today extended its limited-time promotion offering extra trade-in credit towards an iPhone XR or iPhone XS to additional countries, including Australia, Canada, Japan, South Korea, the United Kingdom, and the United Arab Emirates. The promotion first launched in the United States in late November.
Update: Apple continues to expand the promotion, with more European countries just added, including Austria, Belgium, Germany, France, the Netherlands, Italy, Spain, Sweden, and Switzerland.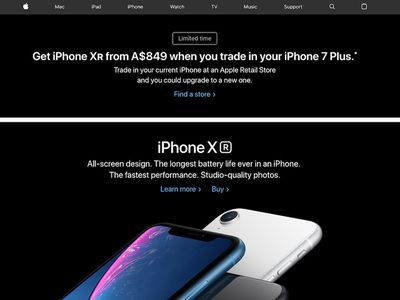 The promotion has also gone live in the China region, as spotted by 9to5Mac, including Hong Kong, Taiwan, and Macao.
As in the United States, Apple is offering higher trade-in values for select older iPhone models towards the purchase of a new iPhone XR or iPhone XS. In Australia, for example, the iPhone XR starts at $1,229, but customers can purchase the device for as low as $849 when trading in an iPhone 7 Plus for a limited time.
In certain countries, the promotion is only available at Apple Stores, but it is also available on Apple.com in some regions. Apple says the offer ends January 31, 2019 in China and Japan, but it has yet to specify a deadline in other countries.
Many analysts have expressed concerns about weakening iPhone sales, and Apple's aggressive marketing of the iPhone XR in particular and its decision to stop disclosing iPhone unit sales starting next quarter fit that narrative. Apple's stock price is down nearly 30 percent since the day of its last earnings report.