Wireless AirPods Charging Case Expected Soon, but AirPods 2 May Not Launch Until Fall
OnLeaks' Steve Hemmerstoffer today tweeted that the AirPods wireless charging case will be ready to launch sometime soon, but the actual AirPods 2 with "Hey, Siri" funtionality may be delayed to the fall.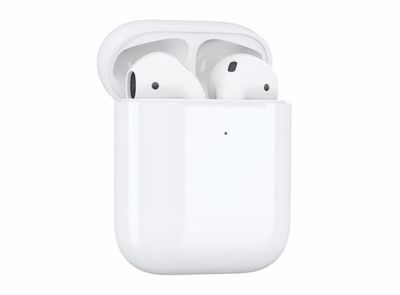 OnLeaks itself casts some doubt on this rumor, by stating up front that the news was gained from a "new and yet unconfirmed," but seemingly reliable source. Hemmerstoffer appears to be most certain about the wireless charging case launching soon and being shipped with the first-generation AirPods.
Some #AirPods2 details I got from a new and yet unconfirmed but seemingly reliable source. Thus, I can't vouch these at 100%...
- New wireless charging #AirPods Case to be launched soon BUT shipped with current AirPods
- Brand new AirPods + new color(s) likely unveiled this fall pic.twitter.com/eNYom3Xys6 — Steve H.McFly (@OnLeaks) February 12, 2019
Most rumors
about AirPods 2 have pointed toward an early 2019 launch for the new wireless earphones, so definitely take this new report with a grain of salt. Just this morning, a
sketchy report
from Greek tech news site
iphonehellas.gr
claimed the new iPads, AirPods 2, and
AirPower
are all set to launch on March 29. Yesterday,
DigiTimes reiterated previous rumors
that stated Apple will release AirPods 2 in the first half of the year.
When they do launch, OnLeaks says the AirPods 2 will come in new colors, and yesterday rumor site MySmartPrice claimed that the new headphones will come in black and white. Beyond AirPods 2 and their new "Hey, ‌Siri‌" functionality, Apple is believed to already be working on the third-generation AirPods, which are rumored to have some form of water resistance.
Hemmerstoffer and OnLeaks have a previous track record of sourcing information from Apple's supply chain, as well as the supply chains of other smartphone manufacturers. For example, Hemmerstoffer shared renders of the 2018 iPad Pro with accurate depictions of the tablet's redesign one month before the device was revealed by Apple.