Apple to Debut New AirPods This Year With Handsfree 'Hey, Siri' Voice Command Feature, 'Water-Resistant' Models Coming in 2019
Apple is reportedly working on several upgrades to its wireless AirPods with a new version of the popular headphones set for release as soon as this year, according to Bloomberg.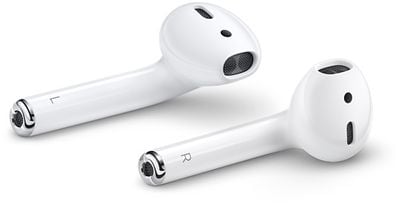 Like with its mobile devices -- the iPhone, iPad, and Apple Watch -- Apple intends to frequently update the AirPods with new hardware features. The Cupertino, California-based technology giant is working on a new version for release as soon as this year with an upgraded wireless chip, the people said. A subsequent model for as early as next year is planned to be water resistant, they added, asking not to be identified discussing private product plans.
The new 2018 AirPods are said to come with an upgraded wireless chip that will let users summon Siri using the "Hey, Siri" voice command without having to physically tap the headphones, similar to the way iPhone and HomePod users invoke the virtual assistant. Currently, summoning Siri through AirPods requires users to double-tap the sides of the earbuds, although responsiveness to touch can occasionally be flaky. The upcoming version of the headphones are known internally as B288, according to today's report.
The idea behind the third iteration of AirPods, said to be coming in 2019, is for the headphones to "survive splashes of water and rain", although they likely won't be designed to be submerged in water, according to Bloomberg's sources. That plan comes despite reports that current-generation AirPods survive being submerged in one foot of water for five minutes, and even come out the other side of a washing and drying cycle functioning as normal. That said, Apple doesn't advertise AirPods as water resistant, and a patent was in fact filed last April for a waterproof AirPods case that can double as an iPhone or Apple Watch charger.
Designed by the same department that produced Apple's HomePod speaker, AirPods were first introduced in 2016 alongside the iPhone 7 sans headphone jack, as a wireless solution for users wanting to listen to audio through a headset. Since launch, AirPods have been considered one of Apple's top-performing products, apparently reflected in Apple's severely constrained supplies throughout 2017. Production capacity of AirPods was bumped up in the second half of last year, but Apple has consistently struggled to reach supply/demand balance. Despite tight supply, AirPods were the overall top selling electronic products during last November's Cyber Monday, according to online shopping data provided by Adobe.
KGI Securities analyst Ming-Chi Kuo has predicted that Apple shipped 13 to 14 million AirPods last year, and he expects AirPods to remain one of Apple's most popular accessories through 2018, with shipments likely to double to an estimated 26-28 million units on a year-over-year basis. Separately, analyst Gene Munster has predicted Apple will eventually earn more from AirPods than Apple Watch.
Back in December, Kuo also predicted Apple would release an upgraded version of AirPods in the second half of 2018. Kuo said one internal change on the second-generation AirPods will include a "smaller quartz component," but he didn't provide any further details about new outward-facing features or improvements to expect.
During Apple's iPhone X event in September, Apple revealed that a rumored new version of its AirPods headphones were not in fact the "AirPods 2," but simply a new inductive wireless charging case that users will be able to purchase as a replacement for their current charging cases. The only design change made to the new charging case is the placement of the LED battery indicator light, which has migrated from the inside of the case to the outside on the front. No release date has been given for the wireless charging case, but there's a fair chance it could appear during a March event alongside Apple's AirPower wireless charging pad and new iPads. It's still unclear if Apple will offer a version that also includes the AirPods themselves at the typical $159 price tag.