Apple Expected to Switch to All-OLED iPhone Line-up by 2020
Apple could drop LCD displays for its 2020 iPhones in favor of an all-OLED line-up, a new report today claims. From the Wall Street Journal (paywall):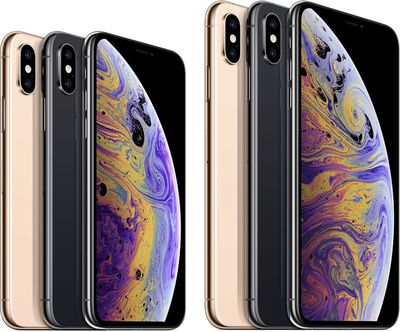 Apple is likely to drop LCD displays altogether in its 2020 iPhone lineup in favor of organic light-emitting diode displays that allow for more flexible handset design, people familiar with the production plans have said.
This isn't the first time we've heard that Apple is considering dropping LCD models from its line-up in order to make a complete shift to OLED displays in 2020.
WSJ suggested the possibility earlier this month, but today's report gives the rumor more clout by claiming that Apple LCD panel supplier Japan Display is seeking investor help that will put it on firmer ground before the switch to OLED-only iPhones takes place.

Japan Display Inc. is in advanced talks with Taiwan's TPK Holdings Co. and Chinese state-owned Silk Road Fund about an investment that would include a stake of about 30% with the possibility of greater control later, people familiar with the matter said.
The bailout is also said to be partly in response to less-than-stellar sales of iPhone XR, which uses the liquid-crystal displays that Japan Display specializes in. More than half of Japan Display's revenue in the year ended March 2018 came from Apple, so the supplier is acutely sensitive to sales that fall short of the tech giant's expectations.
Multiple reports claim Apple has recently asked its partners to cut down on all ‌iPhone‌ production. Apple has also dropped the price of ‌iPhone‌ XR in China to try and spur additional sales.
The price drops and the production cut follow a recent Q1 2019 guidance downgrade, with Apple expecting revenue of $84 billion during the quarter. That's a year-over-year decline and a drop from the $89 to $93 billion revenue guidance Apple provided in November.
A report in May 2018 claimed Apple's transition to a full OLED ‌iPhone‌ line-up would be complete in 2019, but a group of analysts quickly responded to the report and argued that the 2019 timeframe was likely inaccurate.
Apple has been working to bolster its OLED display supply chain for diversification purposes and to cut down its reliance on Samsung, the company that has supplied displays for the ‌iPhone‌ X, ‌iPhone‌ XS, and ‌iPhone‌ XS Max.
Apple has reportedly pushed LG Display to build out its OLED display production facilities, and has even purchased equipment to build an OLED panel research and development site in Taiwan.
Rumors point to a similar ‌iPhone‌ lineup in 2019 as last year, perhaps with a continuation of both the ‌iPhone‌ XS and XR devices, with rumors suggesting we'll see 5.8 and 6.5-inch OLED iPhones along with a 6.1-inch LCD ‌iPhone‌.