AirPower Referenced in iPhone XS Smart Battery Case Description in Malaysia [Removed]
As discovered by MacRumors tipster Sri Ram and others on Twitter, Apple has referenced its long-awaited AirPower charging mat in the product description for its new iPhone XS Smart Battery Case in Malaysia.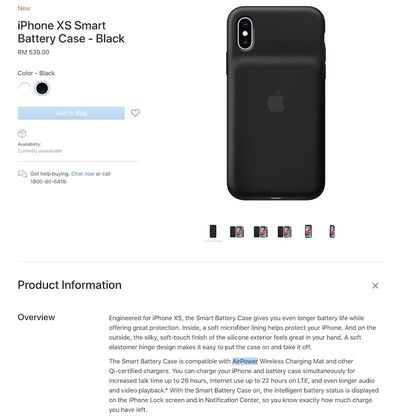 Apple released Smart Battery Cases for the iPhone XS, iPhone XS Max, and iPhone XR on Tuesday following several rumors.
The listing remains live as of Wednesday morning, noting that the ‌Smart Battery Case‌ is "compatible with AirPower Wireless Charging Mat and other Qi‑certified chargers." The case's description in the United States and other countries we checked only mentions compatibility with Qi-certified chargers.
Apple failed to deliver on its promise of releasing the AirPower in 2018, but a report over the weekend suggested that Apple suppliers Luxshare Precision and Pegatron have or will soon start mass production of the AirPower, with an alleged supply chain source saying it will be released soon.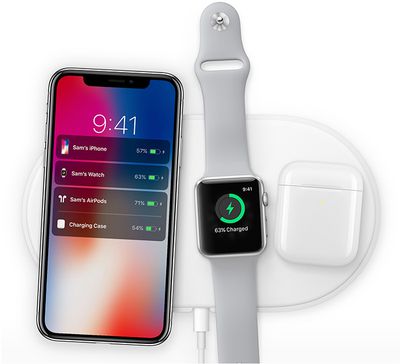 For the sake of covering all bases, there is a possibility the report about mass production was inaccurate and that Apple prepared the ‌Smart Battery Case‌ product description before abandoning its ‌AirPower‌ plans, but simply forgot to scrub the word ‌AirPower‌ from a single product description in a few countries.
‌AirPower‌ is not mentioned on any other ‌Smart Battery Case‌ product pages in Malaysia, the United States, or other countries we checked.
Back in October, however, Apple analyst Ming-Chi Kuo said the ‌AirPower‌ may be released by the early first quarter of 2019, while developer Steve Troughton-Smith recently said he has heard Apple may have overcome technical challenges with the ‌AirPower‌ and could presumably move forward with a release.
Apple has not commented on the ‌AirPower‌ in several months and removed all but a few mentions of the mat from its website following its September 2018 event. ‌AirPower‌ is, however, still referenced in the latest iPhone user guides, in some recent Apple job listings, and in a few recent Apple patent applications.
‌AirPower‌ would be able to inductively charge multiple Apple devices at once, including the ‌iPhone‌ 8 and newer, Apple Watch Series 3 and newer, and AirPods placed in an as-of-yet unreleased charging case listed as "currently unavailable." Apple unveiled the accessory at its September 2017 event alongside the ‌iPhone‌ X.
Update: ‌AirPower‌ does not appear to be referenced in the ‌iPhone‌ XS ‌Smart Battery Case‌ user guide, according to Rene Ritchie.
Update 2: Apple has now removed the ‌AirPower‌ reference from the Malaysian page.