After No Sign of AirPower at Today's Event Apple Wipes Most Mentions From Website
The long-awaited AirPower charging mat, which is designed to charge the iPhone, Apple Watch, and AirPods all at once, did not make an appearance at today's iPhone-centric event that saw the launch of new iPhone XS and iPhone XR models.
Apple did not mention the AirPower at all on stage, despite the fact that it's now been an entire year since the device was announced in September 2017 alongside the iPhone X.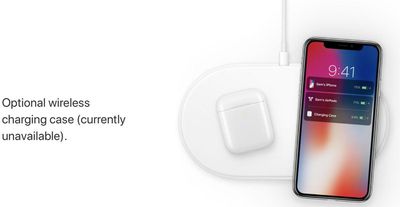 In addition to failing to give an update on the AirPower, Apple has also essentially scrubbed all mentions of the device from its website. Searching for AirPower doesn't bring up anything, and the only place AirPower is listed appears to be on the page for the AirPods.
In a section of Apple's AirPods site the AirPower is depicted alongside a mention of an optional wireless charging case, which is listed as "currently unavailable." The wireless AirPods charging case was meant to be sold alongside the AirPower to enable AirPods wireless charging.
At this point, it's not clear what's going on with the AirPower. Apple originally said that the device would launch in 2018, but it seems like alongside new iPhones would have been the opportune moment.
It's clear there are still technical details to be worked out, and earlier this year, rumors suggested that Apple was still working on issues with overheating and dealing with multi-device circuitry. At the time, Apple was said to be aiming for a September launch, but no AirPower is coming in September.
Apple still has a few more months to meet its 2018 deadline for the AirPower, so it's possible we'll see the device debut via press release in October, November, or December.