Apple Still Mentioning AirPower in Job Listings
Apple continues to mention its unreleased wireless charging mat AirPower in recent job listings in the United States and New Zealand.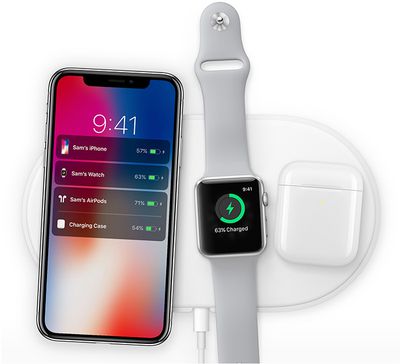 The openings range from student co-op positions to hardware engineers on Apple's Wireless Power Technology team in its hometown of Cupertino, California as well as Auckland, New Zealand, where wireless charging company PowerbyProxi remains based following its acquisition by Apple in October 2017.


The job description for the openings, posted between late October and early December, each refer to the AirPower a single time:
The mission of the Wireless Power Technology team - Build the world's best Wireless Charging user-experience by inventing state-of-the-art technologies. The Wireless Power Technology team develops bleeding-edge Wireless Charging designs that are central to Apple's products - the iPhone, Apple Watch, AirPods, AirPower and more.
Apple first previewed the AirPower at its September 2017 event. At the time, the company's marketing chief Phil Schiller said the accessory was coming in 2018, as did a few Apple press releases.
Apple Newsroom:
Apple gave a sneak peek of AirPower, an Apple-designed wireless charging accessory coming in 2018, which offers a generous active charging area that will allow iPhone 8, iPhone 8 Plus or iPhone X customers to simultaneously charge up to three devices, including Apple Watch Series 3 and a new optional wireless charging case for AirPods.
At this point, it's not entirely clear if Apple still plans to release the AirPower, which has reportedly faced technical challenges. Apple has not commented on the AirPower for many months, and there are just three weeks remaining for the company to deliver on its promise of releasing the accessory in 2018.
Following its September 2018 event, though, Apple removed all but a few references to the AirPower from its website.
Apple's recent job listings could be an indication that the company is still developing the AirPower, or they could be a simple oversight. There are also AirPower references in the iPhone XS, iPhone XS Max, and iPhone XR user guides.
In late October, in a research note obtained by MacRumors, Apple analyst Ming-Chi Kuo wrote that "Apple may launch new AirPods and AirPower in late 4Q18 or early 1Q19," without providing further details. If accurate, then the AirPower is alive and well and could be released within the next few months.
The delayed or canceled release of the AirPower is believed to be the reason why Apple has yet to release its optional wireless charging case for AirPods, which is listed as "currently unavailable" on Apple's website. Like the AirPower, Kuo expects the wireless case to be released by early 2019.