iPhone XS-Like Smart Battery Case Icon Spotted in Action on iOS 12.1.2
An icon depicting what appears to be a Smart Battery Case for the iPhone XS has been spotted in action on an iPhone running iOS 12.1.2, providing yet another clue that Apple may be planning to release such an accessory.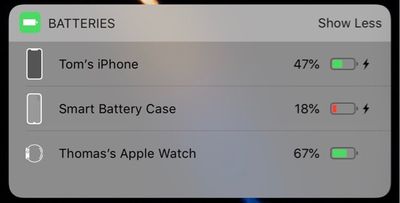 The discovery was made by a Reddit user named Tom, who decided to significantly trim down Apple's Smart Battery Case for the iPhone 7 to fit his iPhone X. Not only did the case function, but it also revealed the iPhone X-esque Smart Battery Case icon with a slimmer design and a vertical camera cutout.
Apple discontinued the iPhone X in September, so the icon likely applies to the iPhone XS, which sports the same physical design.

We don't recommend trying this
The icon appears to be the same one
discovered in watchOS code by 9to5Mac's Guilherme Rambo
, although this time in action on an iPhone. The new case appears to have a Lightning connector, but no "chin" extending below the iPhone.
Rambo also uncovered references to three model identifiers for the case in iOS code, including A2070, A2071 and A2171, suggesting that Apple could release the case in three different sizes for the iPhone XS, iPhone XS Max, and iPhone XR. Another identifier supposedly hinted at a 2018 release, which did not happen.
Images of possible iPhone XS and iPhone XS Max Smart Battery Cases were also uncovered in a Fall 2018 merchandising guide for Apple resellers.


Apple has never released a Smart Battery Case for a plus-sized iPhone, however, and the larger iPhone XR and iPhone XS Max already deliver longer battery life, so it's possible the new case could be for the iPhone XS only if released.
Apple's first Smart Battery Case was for the iPhone 6 and iPhone 6s, and was equipped with a 1,877 mAh battery that protruded out of the back of the case. Apple later released an iPhone 7 version with a similar design but larger 2,365 mAh battery. Both remain available to purchase for $99 in the United States.
By now, there has been plenty of evidence to suggest that Apple has at least considered releasing a Smart Battery Case for the iPhone XS. Whether the plan comes to fruition remains to be seen — a release could certainly be soon.