Qualcomm Calls Tim Cook's Statement on Settlement Talks 'Misleading'
Apple CEO Tim Cook in an interview yesterday said that Apple had not been in any kind of settlement talks with Qualcomm since the third calendar quarter of 2018, which ended in September.
Cook was referencing November comments from Qualcomm CEO Steve Mollenkopf, who said during a November 7 earnings call that Qualcomm has "continued to have discussions with Apple to try and reach a resolution" and in an interview later in the month that the two companies were "really on the doorstep of finding a resolution."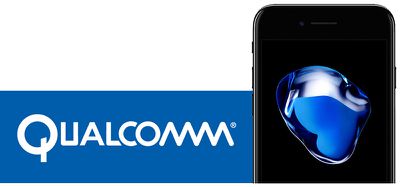 After Cook made it clear yesterday that no settlement talks had taken place when those comments were made, Qualcomm in a statement told Reuters that what Cook had to say was "misleading" and that the company stands by Mollenkopf's statement.
"We have been consistent for the last 18 months in making clear that we have, at various times, been in discussions with Apple about a possible resolution to our licensing dispute," a Qualcomm spokesperson said in a statement. "We have also stated clearly on several occasions that we believe it will be resolved, one way or the other, in the near future, either through a settlement or court decisions."
In response, Apple said that Cook's comments were accurate. "Qualcomm is desperate to obfuscate the tales it has been telling its investors. Their accusations are a red herring," said Apple.
Cook yesterday had no kind words for Qualcomm, calling its policies "illegal."
The issues that we have with Qualcomm is that they have a policy of no license, no chips. This is, in our view, illegal. And so many regulators in many different countries agree with this. And then secondly, the obligation to offer their patent portfolio on a fair, reasonable, and nondiscriminatory basis. And they don't do that. They charge exorbitant prices. And they have a lot of different tactics they use to do that. And that's not just us saying that. I mean, you can see what's coming out of the FTC trial here in the United States.
Cook also spoke about Qualcomm's alleged tactic of spreading fake news, which came to light after a November report from The New York Times and subsequent followup reports suggested Qualcomm may have hired a research firm (Definers Public Affairs) to share negative stories about Apple.
"This is stuff that should be beneath companies," said Cook. "This is not how things should operate."
Apple and Qualcomm have been involved in an increasingly bitter legal battle since the beginning of 2017, with Apple refusing to pay unfair royalties to Qualcomm and Qualcomm countering with patent lawsuits and other litigation.
Qualcomm has achieved a preliminary import ban against the iPhone 7 and the iPhone 8 in China and Germany. Apple was able to sidestep the China ban with a software update, but has stopped selling its devices in Germany.
In addition to its ongoing dispute with Apple, Qualcomm is this week facing an antitrust trial levied by the FTC. The FTC, like Apple, claims that Qualcomm uses its position and portfolio of patents to impose anticompetitive supply and licensing terms on manufacturers.