Apple is 'Not in Talks' to Settle Legal Dispute With Qualcomm and is 'Gearing Up For Trial'
Apple and Qualcomm are not in talks "at any level" to settle a wide-ranging legal dispute spanning multiple countries, according to Reuters.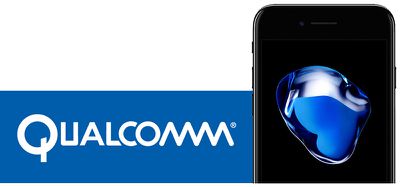 The report cites an unnamed source on Apple's side who said "there is absolutely no meaningful discussion taking place between us and Qualcomm, and there is no settlement in sight," with Apple "gearing up for trial."
The case is set to go to trial early next year, should the companies fail to reach a resolution, according to the report.
Qualcomm CEO Steve Mollenkopf had told investors on the company's quarterly earnings call in July that the two companies were in talks to resolve the litigation. "We hope that through the combination of either those paths, we could get to a resolution, and we're confident that we will," he said at the time.
The saga began when Apple sued Qualcomm in January 2017 for allegedly withholding nearly $1 billion in royalty rebates as retaliation for Apple "responding truthfully to law enforcement agencies investigating them," referring to the FTC's investigation into Qualcomm's anticompetitive business practices.
Qualcomm countersued Apple in April 2017, accusing the company of failing to engage in good faith negotiations for a license to its 3G and 4G standard essential patents on fair, reasonable, and non-discriminatory terms. Qualcomm also accused Apple of encouraging regulatory attacks on its business in multiple countries.
Qualcomm's countersuit said Apple "could not have built the incredible iPhone franchise" without relying upon the chipmaker's "fundamental cellular technologies." Qualcomm went as far as alleging that Apple "contributed virtually nothing to the development of core cellular technology."
Qualcomm also accused Apple of making "misleading statements" about the performance of Qualcomm and Intel modems in iPhones. In testing, iPhone 7 models with Qualcomm's modem achieved faster wireless speeds than those with Intel's modem, but Apple said there was "no discernible difference" between the two.
Apple broadened its lawsuit against Qualcomm in June 2017, accusing the chipmaker of "double-dipping" with unfair patent licensing agreements. Apple said Qualcomm charged it royalties based on a percentage of the entire iPhone's value, despite supplying just a single component of the device - the wireless modem.
The legal dispute encompasses several other claims, including Qualcomm's allegation that Apple shared Qualcomm's trade secrets with Intel to help improve its LTE modems, allowing Apple to stop using Qualcomm's modems.
Qualcomm was the exclusive supplier of wireless modems in iPhones until the iPhone 7 and iPhone 7 Plus, when Apple added Intel as a secondary supplier. Likely due to this legal dispute, Intel became the exclusive supplier of wireless modems starting with the iPhone XS, iPhone XS Max, and iPhone XR.
Apple is reportedly $7 billion behind in royalties owed to Qualcomm as it withholds payments as a result of the legal dispute.