Signify today announced that its Philips Hue lighting lineup is gaining new outdoor lighting and sensor options in 2019.
New to the Hue Outdoor line is the Philips Hue Outdoor Sensor, which, like the indoor sensor, is designed to detect motion. The Outdoor Sensor is able to tell when a person is nearby, turning on outdoor Hue lights automatically.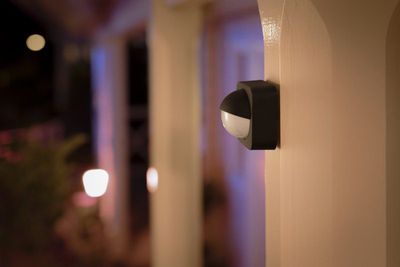 The Hue Outdoor Sensor is wireless and operates on battery power, so it can be placed anywhere that's convenient. It has a 12-meter detection range and an integrated dusk-to-dawn sensor, making sure the lights only come on when it's dark outside.
Priced at $49.95, the Hue Outdoor Sensor will be available in February 2019.
Along with the sensor, Signify is introducing several new Philips Hue wall-mounted outdoor lighting fixtures, including the Philips Hue Welcome Flood Light ($109.99), the Philips Hue Discover Flood Light ($139.99), and the Philips Hue Econic family, priced at $129.99.

Hue Discover and Welcome Lights


The Welcome light is limited to one shade of bright white light, but the Discover light is a white and color ambiance light, which means it can be set to various shades of white or one of 16 million colors.
The new Philips Hue Outdoor lights will work like all other Hue lights, allowing for Siri-based voice controls via HomeKit as well as app control options through the Hue app or the Home app.

Hue Econic lights


The lights will also work with scenes and automations, allowing them to be integrated with other HomeKit products and set to come on automatically at designated times if desired. Signify plans to release the lights in February 2019.
More info on the new Hue Outdoor lights can be found on the Meethue website.