Apple Watch Chief Jeff Williams Says ECG App is 'Huge Opportunity' to Empower People About Their Health
Apple today announced that its ECG app will be available on the Apple Watch Series 4 today as part of watchOS 5.1.2. Alongside that news, TIME has published a new interview with Apple's CEO Tim Cook and COO Jeff Williams.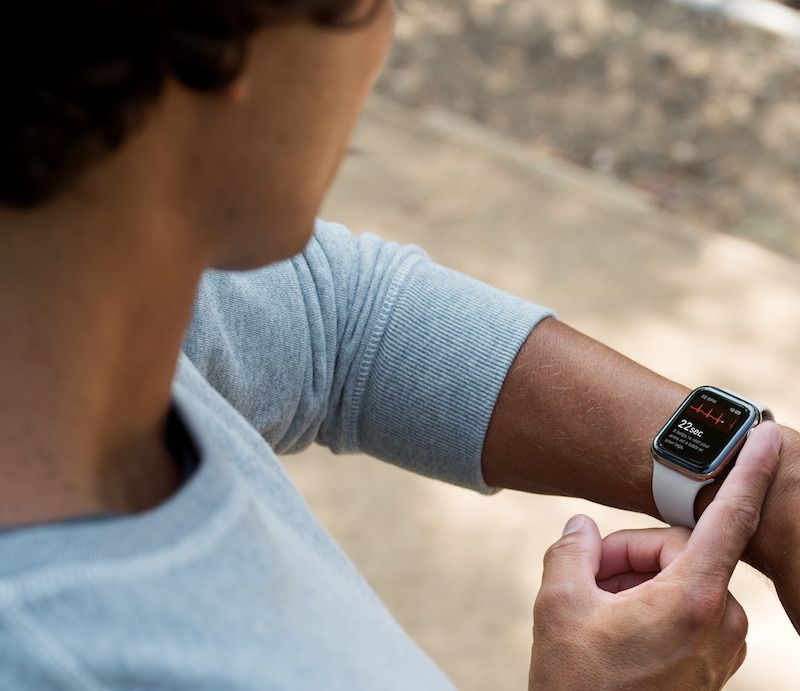 The article begins with a story about 46-year-old Texas resident Kevin Foley, who was having trouble breathing normally during a movie. Fortunately, since he was wearing an Apple Watch and participating in the recent Apple Heart Study, he was alerted to signs of an irregular heartbeat and went to the emergency room.
At the hospital, doctors hooked Foley up to an ECG machine and found signs of atrial fibrillation, an irregular heartbeat that can lead to stroke and other potentially fatal complications. Foley spent the next few days in the hospital while doctors worked to return him to a normal sinus heart rhythm and is doing fine now.
"Apple's largest contribution to mankind will be in improving people's health and well-being," Cook boldly proclaimed.
"We have tens of millions of watches on people's wrists, and we have hundreds of millions of phones in people's pockets," said Williams. "There's a huge opportunity to empower people with more information about their health. So this is something we view as not only an opportunity, but a responsibility of ours."
Williams also appeared on CBS This Morning today to talk about the ECG app. The YouTube video can only be streamed in the United States.
The report says a traditional hospital ECG is often referred to as a "12-lead" machine, as its 10 different electrodes provide information on 12 different areas of the heart. The new Apple Watch is the equivalent of only a single-lead device, but research suggests the ECG app is still very accurate.
In a press release, Apple said the accuracy of its ECG app was validated in a clinical trial with around 600 participants. The study found the ECG app on Apple Watch demonstrated 98.3 percent sensitivity in classifying atrial fibrillation:
Rhythm classification from a gold standard 12-lead ECG by a cardiologist was compared to the rhythm classification of a simultaneously collected ECG from the ECG app. The study found the ECG app on Apple Watch demonstrated 98.3 percent sensitivity in classifying AFib and 99.6 percent specificity in classifying sinus rhythm in classifiable recordings. In the study, 87.8 percent of recordings could be classified by the ECG app.
"The FDA has been very rigorous, and they should be," said Williams, referring to the Apple Watch's heart health features.
The article goes on to claim that some cardiologists and other experts have raised concerns that the Apple Watch's ECG feature is "unnecessary for the general population" and "could cause problems," including false positives.
"If everybody with an Apple Watch and an alert from an Apple Watch went to a heart-rhythm doctor that was super comfortable with this, then I think it would be O.K.," said Dr. John Mandrola, a cardiac electrophysiologist. "But there are going to be millions of people going to the doctor that in many cases will be just fine."
Apple responded that no medical test is 100 percent accurate, so some false positives are inevitable, according to the report. Moreover, the Apple Watch will only alert users to a potential heart-related problem if it detects five instances of what it considers a cardiovascular episode, including arrhythmia.
Importantly, in an internal document obtained by MacRumors, Apple cautioned that the ECG app is "not intended to be a diagnostic device or to replace traditional methods of diagnosis," and "should not be used to monitor or track disease state or change medication without first talking to a doctor."
To take an ECG reading from the Apple Watch, users will need to place a finger on the Digital Crown while wearing the watch. The reading is completed in 30 seconds, allowing users to determine whether their hearts are beating in a regular pattern or if there are signs of atrial fibrillation.
Irregular heart rhythm notifications will also be available on Apple Watch Series 1 through Series 4 models in watchOS 5.1.2.
Apple says the setup process for these heart health features will include details about who can use the features, what the features can and cannot do, what results users may get and how to interpret them, and instructions for what to do if users are feeling symptoms that require immediate medical attention.
watchOS 5.1.2 should be available through the Apple Watch app on a paired iPhone around 10:00 a.m. Pacific Time as usual. At launch, the ECG app will be limited to the U.S., but Apple is likely working to get regulatory clearance elsewhere.
Top Stories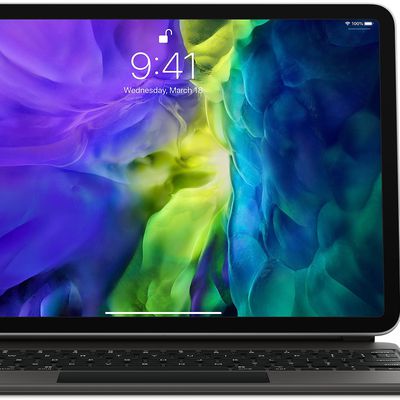 Apple today released iOS and iPadOS 13.4, the latest major updates to the iOS 13 operating system that was released in September. iOS and iPadOS 13.4 come two months after the release of iOS and iPadOS 13.3.1 with Screen Time Communication Limits. The iOS and ‌iPadOS‌ 13.4 updates are available on all eligible devices over-the-air in the Settings app. To access the updates, go to...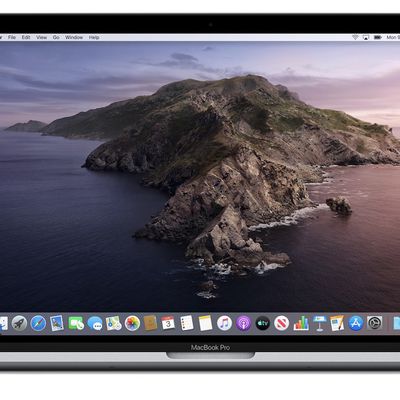 Apple today released macOS Catalina 10.15.4, the fourth update to the macOS Catalina operating system that was released in October. macOS Catalina 10.15.4 comes a couple of months after the release of macOS Catalina 10.15.3. macOS Catalina 10.15.4 can be downloaded from the Mac App Store for free using the Update feature in the System Preferences app. The macOS Catalina 10.15.4 update...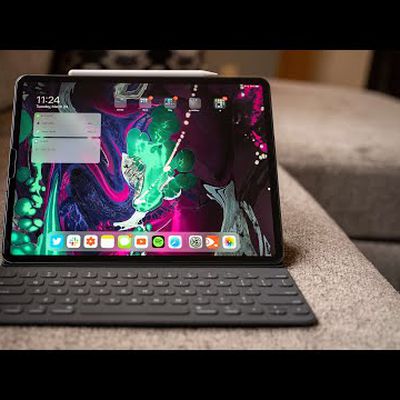 Apple last week introduced new 11 and 12.9-inch iPad Pro models, which are set to arrive in the hands of customers starting this week. Apple introduced a nifty new Magic Keyboard with trackpad alongside the new iPad Pro models that's coming in May, but it also debuted a new Smart Keyboard Folio, which is available now. We picked up the Smart Keyboard Folio for the designed for the 2020 iPad...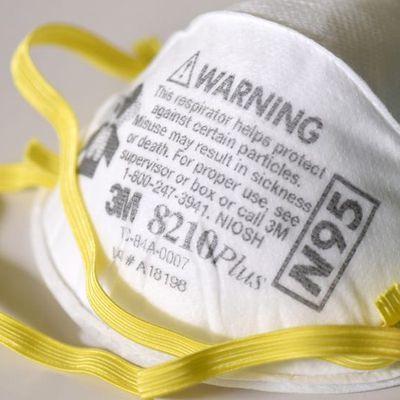 Apple over the weekend announced plans to donate millions of N95 masks to hospitals in the United States and Europe, and according to Apple CEO Tim Cook, Apple has been able to source more than 10 million N95 masks in the U.S. and millions more in Europe. Apple CEO Tim Cook said on Saturday that Apple was aiming to donate supplies to healthcare providers fighting COVID-19, and clarified...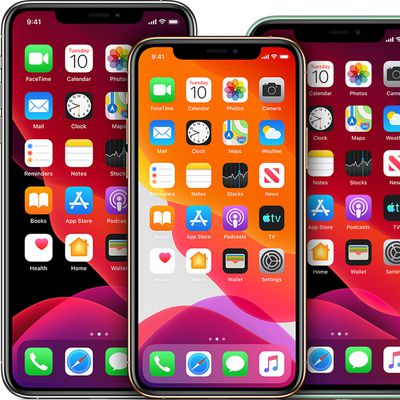 Apple is preparing to delay the launch of the 2020 iPhones expected to be equipped with 5G technology, according to sources with knowledge of Apple's plans that spoke to Japanese news site Nikkei. Apple has reportedly held internal discussions about the possibility of delaying the launch "by months" over fears of how well iPhones would sell in the current situation, and supply chain sources...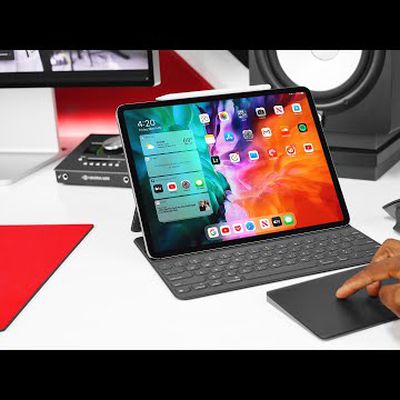 Apple last week introduced new iPad Pro models with an similar performing A12Z Bionic chip, an Ultra Wide camera for 0.5x zoom, and a LiDAR Scanner for enhanced augmented reality. The new iPad Pro models will begin arriving to customers and go on sale at select stores starting tomorrow, and ahead of time, the first unboxing videos have surfaced. The new iPad Pro models will be compatible with A...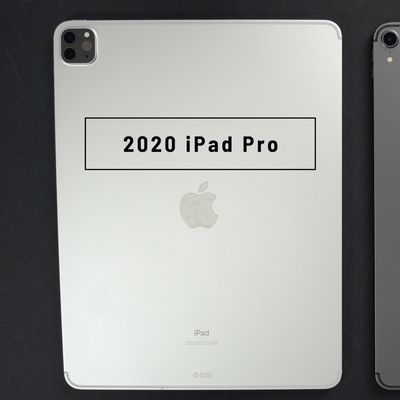 Apple last week announced new 11 and 12.9-inch iPad Pro models, and as of today, the new iPads are arriving to customers. We picked up one of the new 12.9-inch models and checked it out to see just what's new and whether it's worth buying. Subscribe to the MacRumors YouTube channel for more videos. When it comes to design, the new iPad Pro models are identical to the 2018 iPad Pro models, but ...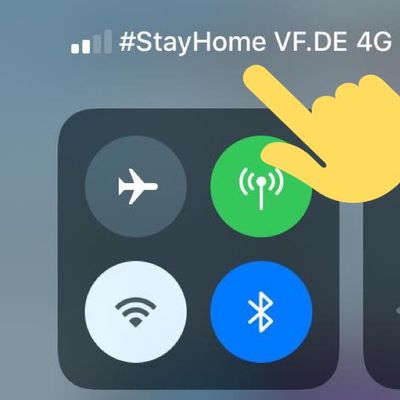 iPhone users in several countries who disconnect from WiFi on their devices will see a "Stay Home" message at the top of the Control Center where cellular network information is displayed. Image via Matt Navarra According to reports on Twitter, the status bar messages are showing up in countries that include Germany, Belgium, United Arab Emirates, Peru, Turkey, India, Luxembourg, Romania,...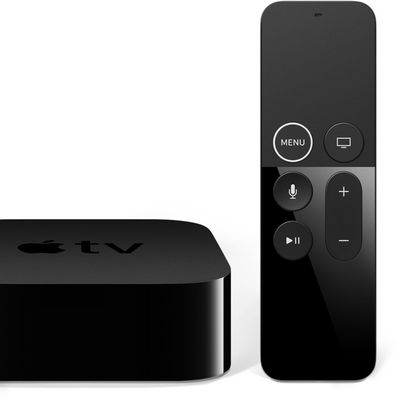 Apple today released tvOS 13.4, the third major update to the tvOS operating system that runs on the fourth and fifth-generation Apple TV models. tvOS 13.4 comes a couple of months after the release of tvOS 13.3.1. tvOS 13.4, a free update, can be downloaded over the air through the Settings app on the Apple TV by going to System > Software Update. Apple TV owners who have automatic software ...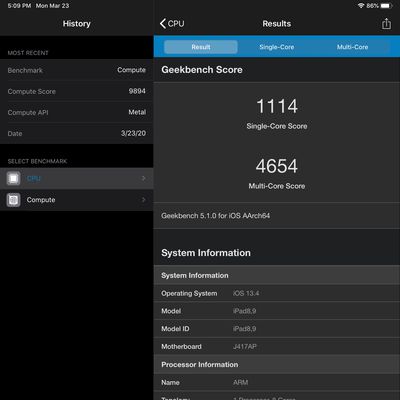 One of the new 2020 iPad Pro models equipped with an A12Z chip arrived early to a Reddit user, who did some benchmarking tests to see how it performs. In a Geekbench 5 test, the 11-inch 2020 iPad Pro earned a single-core score of 1114 and a multi-core score of 4654, which is close to the Geekbench scores of the 11-inch iPad Pro from 2018. The 11-inch iPad Pro has an aggregate single-core G...