Apple Watch Owners Can Participate in Apple Heart Study to Identify Irregular Heart Rhythms
Apple today announced it has launched a ResearchKit-based Apple Heart Study app, which uses the Apple Watch's heart rate sensor to collect data on irregular heart rhythms and notify users who may be experiencing atrial fibrillation.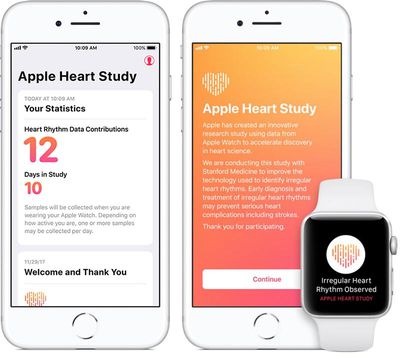 As part of the study, if an irregular heart rhythm is identified, participants will receive a notification on their Apple Watch and iPhone, a free consultation with a study doctor and an electrocardiogram (ECG) patch for additional monitoring.
"Every week we receive incredible customer letters about how Apple Watch has affected their lives, including learning that they have AFib. These stories inspire us and we're determined to do more to help people understand their health," said Jeff Williams, Apple's COO. "Working alongside the medical community, not only can we inform people of certain health conditions, we also hope to advance discoveries in heart science."
To calculate heart rate and rhythm, the Apple Watch's sensor uses green LED lights flashing hundreds of times per second and light-sensitive photodiodes to detect the amount of blood flowing through the wrist.
Apple is partnering with Stanford University's School of Medicine to perform the research.
"Through the Apple Heart Study, Stanford Medicine faculty will explore how technology like Apple Watch's heart rate sensor can help usher in a new era of proactive health care central to our Precision Health approach," said Lloyd Minor, Dean of Stanford University School of Medicine. "We're excited to work with Apple on this breakthrough heart study."
While heart arrhythmias aren't always symptoms of a serious disease, atrial fibrillation is a leading cause of stroke, which can lead to death. Many people don't experience symptoms, so it often goes undiagnosed.
The Apple Heart Study is rolling out on the App Store in the United States today to customers who are 22 years or older and have an Apple Watch Series 1 or later. The app itself requires an iPhone running iOS 11 or later.
Apple says the study is not intended for people who already have atrial fibrillation or atrial flutter during the enrolment process.
This announcement follows news that AliveCor has received FDA approval to sell its medical-grade Kardia Band for Apple Watch, which can detect abnormal heart rhythm and atrial fibrillation, in the United States.