iFixit Shares Full Teardown of 11-Inch iPad Pro and New Apple Pencil
Following teardowns of the new
MacBook Air
and
Mac mini
, the repair experts at iFixit have today
published
their teardown of the 11-inch iPad Pro.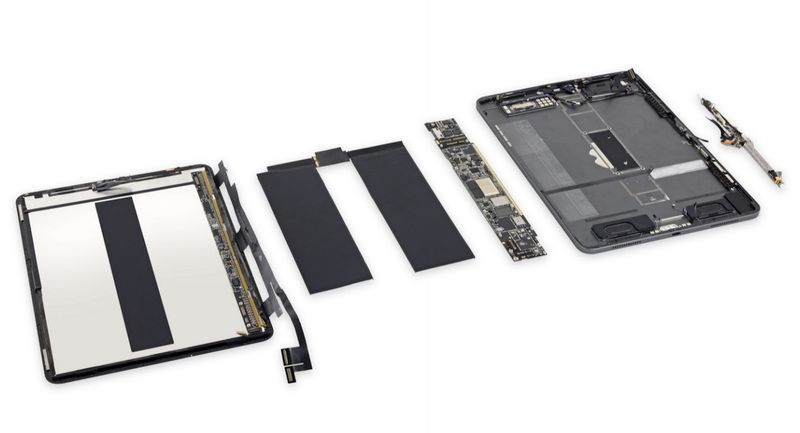 Images via iFixit
To start, iFixit removed the display from the tablet and the first thing they noticed were the audio components of the new iPad Pro, made up of four woofers and four tweeters.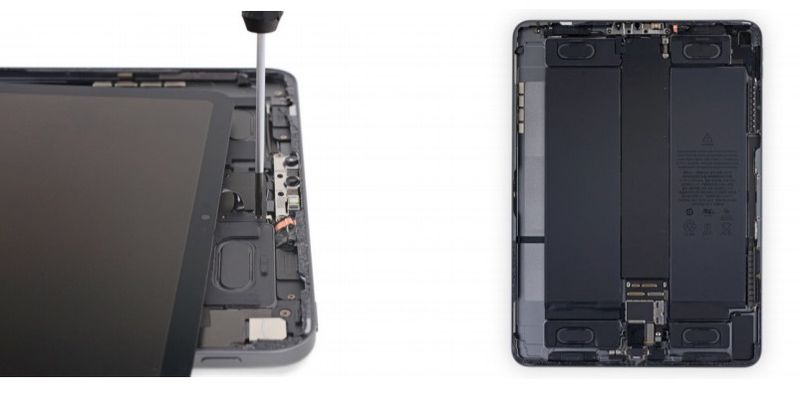 The speakers and logic board cover impeded access to the iPad Pro's A12X Bionic chip, but eventually iFixit accessed the full logic board. On it, they found the A12X Bionic SoC, 64GB Toshiba flash storage, two Micron RAM
totaling 4GB
, the NFC controller, Apple's Wi-Fi/Bluetooth module, two Broadcom touch screen controllers, and a Texas Instruments power controller.
With its sights set on the iPad Pro's battery, iFixit discovered that the 2018 tablet's battery is slightly more repairable than the previous generation. This is because Apple is again using stretch-release battery tabs again with the 11-inch iPad Pro, with six U-shaped strips in total. iFixit explained that each of these strips include two tabs, so fixers have a second chance at repairability should one of them break.

After this smooth opening with the adhesive strips, iFixit still faced a large amount of adhesive running down the left side of the battery. Eventually, the repair experts got the battery free and found a 7,812 mAh battery running at 3.77 V for 29.45 Wh, which is a slight downgrade in comparison to the 30.8 Wh pack of the 10.5-inch iPad Pro.
Looking at the Face ID components, iFixit pointed out that this is the same basic hardware previously seen in Apple devices since the iPhone X, just in "a slightly modified form factor." iFixit then removed the speakers, Apple Pencil charging board, and USB-C port, which is fully modular, unlike previous iPads. Unlike the Lightning ports on the older iPad models -- which were soldered to the logic board -- the USB-C port on the 11-inch iPad Pro can be replaced independently of the main logic board.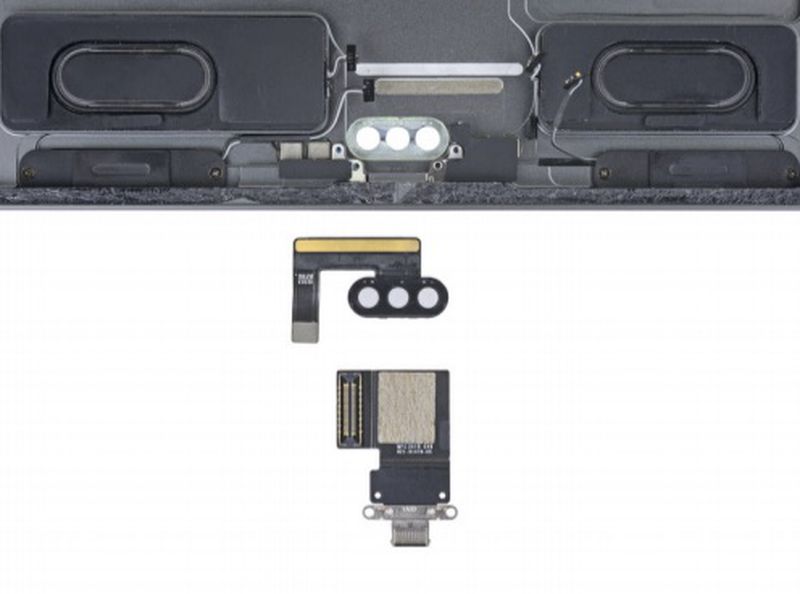 Lastly, iFixit used its ultrasonic blade to teardown the new Apple Pencil and discover its battery, wireless charging coil, alignment magnets, and Broadcom touch controller. The experts also noticed what looked like a capacitive grid, thought to be used to register the user's tap inputs on the new Apple Pencil. According to iFixit, this particular grid also helps the Apple Pencil know where on the Pencil you tap, not just when, so the experts wondered if more complex gestures could be coming.
Overall, the 11-inch iPad Pro has received a 3/10 repairability score, with 10 being the easiest to repair. The major bonuses for the new iPad Pro's repairability were the modular USB-C port and lack of a physical home button, which "eliminated a common failure point" and could further simplify repairs. Still, iFixit noted that adhesive was nearly everywhere inside of the iPad Pro, and will make all repairs more difficult.