Following Apple's event in Brooklyn this morning, more information has come to light about the new iPad Pros, particularly how much RAM is included in each model of the updated tablets. Using Xcode, developer Steve Troughton-Smith has discovered that the 11-inch and 12.9-inch iPad Pro models with 1TB of storage have 6GB of RAM, compared to 4GB for previous generation iPad Pros.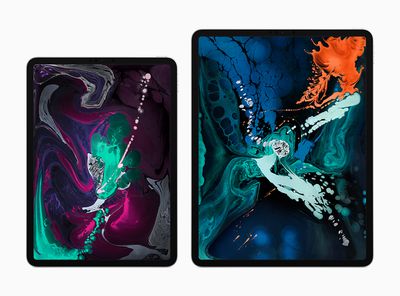 The new iPad Pros both have 6GB of RAM, according to Xcode (technically the kCoreThemeMemoryClass enum doesn't map 1:1 but CoreUI only knows about 6GB devices so the iPad must be 6GB if not any prior value) pic.twitter.com/Oas1nOM5BM — Steve Troughton-Smith (@stroughtonsmith) October 30, 2018
This is the first time that any iPad Pro model has supported 1TB of storage, and 6GB is the highest amount of RAM seen on Apple's pro-level tablets, if the data is accurate. For any storage capacity below 1TB, including 64GB, 256GB, and 512GB, each iPad Pro model retains the previous generation's 4GB of RAM. RAM isn't an aspect of the iPad that Apple details to customers, so this information hasn't been confirmed, but the Xcode test appears largely accurate.
At 1TB, Apple sells the 11-inch iPad Pro for $1,549.00 and the 12.9-inch iPad Pro for $1,749.00, making them the most expensive iPad models ever sold. Apple has increased the RAM in both iPad and iPhone over the years. The iPhone X, for example, had 3GB RAM, while the iPhone XS and XS Max have 4GB RAM. The lower-cost iPhone XR retains the iPhone X's 3GB RAM.