Apple Accepting Red Cross Donations for California Fire Relief
Apple today added banners to the App Store and iTunes Store on Mac and iOS devices allowing Apple customers to donate to the American Red Cross to support those who have been affected by the fires that have devastated Northern California.
Impacting Shasta County and the town of Redding, the Carr Fire has become the sixth most destructive fire in California's history, ripping through more than 125,000 acres and destroying or damaging over 1,500 homes and buildings. Other smaller fires, such as the Ferguson Fire near Yosemite National Park, are also raging in California due to the hot, dry weather.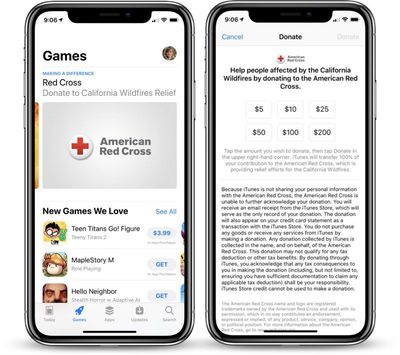 The Carr Fire started on July 23 after a car caught fire on California State Route 299. Six people have been killed, including two firefighters. The fire is 39 percent contained at this point, but high winds expected this weekend could hamper efforts to put it out.
Apple is allowing its customers to donate using credit and debit cards that are already on file with the iTunes and App Stores, for a simple, no-hassle donation process. iTunes and App Store users can donate $5, $10, $25, $50, $100, or $200, 100 percent of which goes to the American Red Cross.
Apple often uses the iTunes Store and App Stores to raise money for charity during major disasters. Apple collected donations on behalf of the American Red Cross during the 2015 Nepal earthquake, the 2013 Philippines typhoon, Hurricane Sandy in 2012, the 2011 Japan earthquake and tsunami, and the 2010 earthquake in Haiti.
This is the second year that Northern California has been hit with major fires, and last year, Apple donated $1 million towards relief efforts following the fires that devastated Napa, Sonoma, and Santa Rosa, California. Apple also donated another $1 million towards Southern California fire relief efforts back in December.
Fire season in California typically lasts through the late summer and well into October, with scorching temperatures, dry weather, and high winds reacting with dry brush caused by drought. This July, areas in Northern California have seen unusually high temperatures leading to an early start to fire season.