iTunes Store Facilitating Red Cross Donations for Haitian Earthquake Relief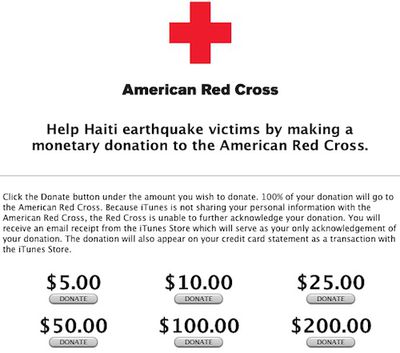 Apple has set up a feature on its iTunes Store main page to allow users to
donate to the American Red Cross
in support of relief efforts in the wake of Tuesday's massive earthquake in Haiti. The donations, which are available in six denominations ranging from $5 to $200, will be processed as any other iTunes purchase, allowing convenient billing for existing iTunes users, and 100% of the donated amount will be passed along to the Red Cross.
On January 12, a series of earthquakes measuring 6.5 to 7.3 on the Richter scale devastated Haiti. The American Red Cross is working with its partners in the global Red Cross and Red Crescent network, including the Haitian Red Cross, and other partners to assist those affected by this disaster.
Your gift to the American Red Cross will support emergency relief efforts to help those affected by this earthquake. Assistance provided by the American Red Cross may include sending relief supplies, mobilizing relief workers and providing financial resources.
In addition, Macworld notes that a number of Mac developers are donating proceeds from sales of their software to the relief effort. One group in particular is organizing under the Indie+Relief banner to set January 20th as a one-day fundraising push for the effort, with over twenty as-yet-unnamed developers already on board according to Macworld.