Apple Maps vehicles equipped with LiDAR sensors have begun collecting street-level data in Montana and North Carolina for the first time this week, raising the total number of U.S. states the fleet has at least partially covered to 45.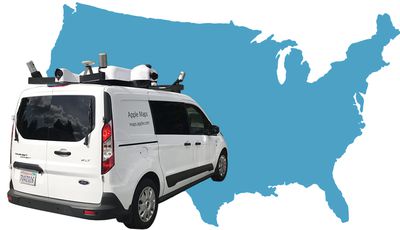 The vehicles have been collecting mapping data in the United States since at least 2015. Apple periodically updates a list of locations where the vehicles will be driving on its website. To our best knowledge, the only states yet to be surveyed are Alaska, Arkansas, Oklahoma, South Carolina, and Tennessee.
The vehicles have also surveyed parts of Croatia, France, Ireland, Italy, Japan, Portugal, Slovenia, Spain, Sweden, and the United Kingdom.
Last month, Apple confirmed that mapping data and imagery collected by the vehicles will be used to rebuild Apple Maps "from the ground up," aided by high-resolution satellite imagery and "probe data" collected from anonymized, random segments of navigation sessions by opted-in iPhone users.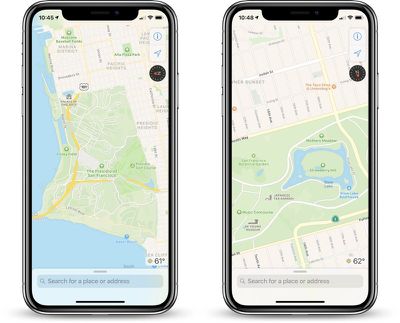 The gist of it is that Apple will be switching to its own base map, reducing but not fully eliminating its reliance on third-party providers like TomTom, which will yield significant improvements to traffic, real-time road conditions, road systems, new construction, changes in pedestrian walkways, and more.
The overall look and feel of Apple Maps is mostly the same, but zooming and panning reveals more details like grass, trees, and parking lots. Apple also says search results should be more relevant, hopefully making navigation more reliable.
Apple says the underlying efforts to revamp Maps have been underway for the past four years, but the improvements are currently limited to Northern California on devices running the iOS 12 beta. Apple says the new Maps will roll out section by section across the rest of the United States over the next year.
Apple hasn't said if and when the new Maps will be available outside of the United States, but given the vehicles have surveyed 10 other countries, it is likely on the roadmap. We've reached out to them to see if they are willing to confirm.