Apple has informed Intel that it will not use the chipmaker's 5G mobile modem in its 2020 iPhones, according to a new report.
Israeli website CTech by Calcalist reported on Wednesday that it had reviewed internal communications from Intel and spoken to "people familiar with the matter", leading it to conclude that Intel will not provide the 5G modems for Apple's 2020 mobile devices.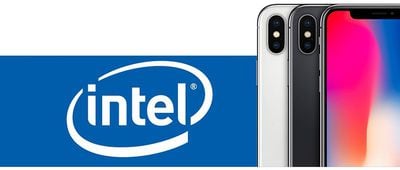 Apple has notified Intel it will not use a mobile modem developed by the chipmaker in its next-generation mobile device, Intel executives said in the communications. Further development of the modem component internally called "Sunny Peak" is halted and Intel's team working on the product will be redirected to other efforts, the executives said.
Calcalist said the communications it had seen described Apple as the "key mobile customer" and the "main volume driver" for the "Sunny Peak" 5G mobile modem, underlining the impact the loss of business would have on the chipmaker.
Apple was also said to be facing a "massive effort" to launch 5G in its mobile products, with Intel executives blaming the company's decision not to use its modems on "many factors", including the introduction of a faster WiGig (802.11ad) Wi-Fi standard, which brought "new and unanticipated challenges".
In a response to Calcalist's request for comment, an Intel spokesman said the company does not comment on matters relating to its customers.
The news follows one analyst's prediction last week that Apple could choose to use modems manufactured by MediaTek instead of Intel in future iPhones.
Northland analyst Gus Richard gave no timeline for the predicted switch, but with deals for 2018 iPhones already established, any impact was expected no earlier than 2019.
Apple added Intel as a manufacturer only a couple of years ago, after previously relying solely on Qualcomm for its modem chips. Current iPhones use LTE chips from both companies, but Apple is embroiled in a lawsuit with Qualcomm and is rumored to be planning to ditch their chips, too.
Apple is believed to be developing its own modem chips, but it will need to continue to use third-party chips until its in-house solution is ready to be deployed in iOS devices.
Current rumors suggest Intel will supply approximately 70 percent of LTE chips for Apple's 2018 lineup, with the rest of the chips coming from Qualcomm.
Apple is also moving away from Intel chips in its Mac lineup, with rumors indicating the company is developing its own custom chips that could appear in Macs as early as 2020.
Update: In response to this story, Intel told MacRumors the company's 5G customer engagements and roadmap had not changed for 2018 through 2020. "We remain committed to our 5G plans and projects," said a spokesperson.