KGI Expects Intel to Be Exclusive Supplier of Modems in 2018 iPhones
Intel could be the exclusive supplier of LTE modems for all new iPhones launched in 2018, according to KGI Securities analyst Ming-Chi Kuo.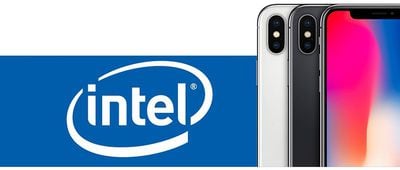 The key takeaway of the research note, obtained by MacRumors:
We expect Intel to be the exclusive supplier of baseband chip for 2H18 new iPhone models, while Qualcomm may not have a share of the orders at all.
Kuo previously expected Intel to supply 70 percent of the modems, with Qualcomm providing the remaining 30 percent of orders, but he now believes Intel will be the sole supplier given several competitive advantages.
First and foremost, Intel's latest XMM 7560 modem [PDF] supports both GSM and CDMA, meaning that Apple could release a single iPhone model that works across AT&T, Verizon, T-Mobile, and Sprint. Intel modems previously lacked CDMA, meaning Apple could never fully ditch Qualcomm for all iPhone models.
Apple is also embroiled in a major lawsuit with Qualcomm over anticompetitive licensing practices, and Kuo believes the iPhone maker switching to Intel as its exclusive modem supplier will place added pressure on Qualcomm.
Kuo added that it's too early to tell if Intel will be able to maintain its position of exclusivity in the future, as Apple typically prefers to diversify its supply chain. He adds that Apple may give orders to Qualcomm again in exchange for concessions in the ongoing lawsuit between the two companies.
Qualcomm was Apple's exclusive supplier of baseband chips until the iPhone 7 and iPhone 7 Plus, when Intel began to share some of the orders.
In order to make up for the lost iPhone business, Kuo expects Qualcomm will be more aggressive in securing orders from Chinese smartphone makers. However, he believes these Chinese companies don't want a monopolized market, so Qualcomm's ability to gain market share in the country may be limited.
Kuo also reiterated that LTE transmission speeds will increase significantly in new iPhone models released in the second half of 2018.
In a previous research note from November, Kuo highlighted that Intel's XMM 7560 modem supports 4x4 MIMO technology, compared to only 2x2 MIMO in the iPhone 8, iPhone 8 Plus, and iPhone X. The faster LTE speeds will also be made possible by an upgraded antenna design in the next iPhones.