Intel to Supply Apple With 70% of LTE Chips Needed for 2018 iPhones
Intel is planning to supply Apple with 70 percent of the modem chips that will be used in the 2018 iPhone lineup, according an unnamed source that spoke to Fast Company. Qualcomm will allegedly provide the rest.
KGI Securities analyst Ming-Chi Kuo previously suggested Intel might be Apple's sole supplier for LTE modems in 2018 given Apple's ongoing and increasingly tense legal battle with Qualcomm, while The Wall Street Journal said Apple might use Mediatek and Intel chips to avoid working with Qualcomm, but Fast Company says that's not the case.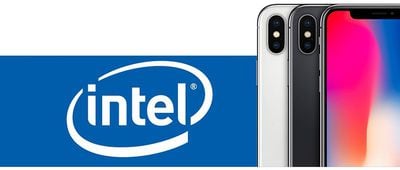 Intel will supply the lion's share of the chips, but because 2018 is the first year that Intel is fabricating its own chips using its 14-nanometer process, Fast Company's source says Apple plans to continue to use Qualcomm chips in 2018.
Given that technological transition, Apple is apparently waiting to see how well Intel fulfills this year's order. If Intel underdelivers, Qualcomm will make up the balance on top of the 30% it's already planning to provide. There's also a chance that if Intel can produce enough chips on time and on budget it could get more than the planned 70%, our source says.
Intel is reportedly not hitting its expected modem chip yield rates at the current time, with just over half of chips produced coming out in an acceptable quality. Intel engineers are, however, confident that yield rates can be pushed up before production ramps up in the summer months.
While Intel may not be Apple's sole supplier for modem chips in 2018, if its chip production speeds up and kinks are worked out, Apple will transition solely to Intel for its 2019 iPhone lineup, effectively cutting ties with Qualcomm.
Apple first adopted Intel chips in the iPhone 7, released in 2016, moving away from Qualcomm as its sole supplier. Since early 2017, Apple and Qualcomm have been embroiled in a bitter legal battle, which has led to Apple's efforts to cease using Qualcomm chips all together.