Car Consortium That Includes Apple Announces Digital Car Key Specification for Smartphones
The Car Connectivity Consortium (CCC), an organization that includes Apple, today announced the publication of a new Digital Key Release 1.0 specification, which is a standardized solution designed to let drivers download a digital vehicle key onto their smartphones.
Described as an organization focused on enabling seamless mobile device-to-vehicle connectivity, the CCC's new Digital Key Release specification is available to all member companies.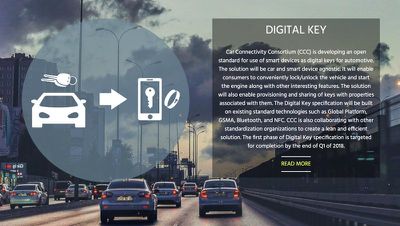 In addition to Apple, this includes charter member companies Audi, BMW, General Motors, HYUNDAI, LG Electronics, Panasonic, Samsung, and Volkswagen, plus core members like ALPS ELECTRIC, Continental Automotive GmbH, DENSO, Gemalto, NXP, and Qualcomm Incorporated.
The new Digital Key specification, which uses NFC, was developed to create a "robust ecosystem" around interoperable digital key use cases. It will let drivers lock, unlock, start the engine, and share access to their cars using smart devices like the iPhone with reliable user authentication methods.
It is a secure system that lets vehicle manufacturers transfer a digital key implementation to a smart device using a Trusted Service Manager infrastructure that leverages NFC distance bounding and a direct link to the secure element of the device. This kind of technology has a wide range of uses, such as car sharing and car rentals, along with key-free operation.
Given the interest in the initial release, the CCC has begun work on a Digital Key 2.0 specification that will offer a standardized authentication protocol between a vehicle and a smart device, ensuring interoperability between different smart devices and vehicles. The Digital Key 2.0 specification has a target completion date of Q1 2019.
Several car manufacturers, such as Audi, already offer Digital Key services to their customers, while others, like Volkswagen, plan to implement the feature in the near future.