Apple Store Modernization Efforts Continue From Los Angeles to London
Apple's process of modernizing its chain of over 500 retail stores continues in several major cities around the world.
Over the weekend, Apple celebrated the grand opening of its relocated Beverly Center store in Los Angeles. Apple's original store in the shopping mall, opened November 2005, permanently closed at the end of Friday.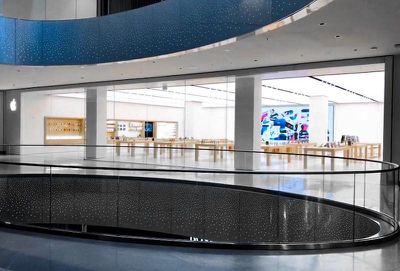 Apple's new Beverly Center store via Instagram
Apple's remodeled stores often gain additional square footage to accommodate an increased number of both products and customers. The extra space is also beneficial to
Today at Apple
sessions related to photography, coding, exercising with the Apple Watch, and other topics.
Apple's latest retail design, introduced in 2015, typically includes large glass doors, large video screens for product marketing and in-store events, and sequoia wood shelves on the walls for accessories.
Apple recently announced that its flagship Covent Garden store in London will be closed starting June 27 to allow for renovations to be completed. Of note, this location became Apple's largest store when it first opened in 2010, although it has since ceded the title to a newer store in the United Arab Emirates.

A sign at Apple Covent Garden tipped by a MacRumors reader
Likewise,
9to5Mac
's Michael Steeber reported that
Apple Wangfujing
in Beijing will be closed for renovations starting June 24.
Elsewhere in the Greater China region, Apple has revealed that it will be opening a second store in Macau, along the Cotai Strip, an area with several hotels, casinos, and resorts, earning it the nickname of the Las Vegas of Asia. Apple has yet to specify an exact opening date, but it could be within the next month.

Apple's banner for its second store in Macau via MacRumors reader Chris Gooda
Apple's renovation efforts continue at its
iconic Fifth Avenue store in Manhattan
, and at
its Palo Alto store
, often visited by Apple CEO Tim Cook on product launch days due to its close proximity to Apple's headquarters.

Apple reinstalling its glass cube on Fifth Avenue via MacRumors reader David Bills
Other regional stores closed for renovations include locations in
Charlotte
,
Nashville
, and
Westchester County
north of New York City.
Update: As noted by a MacRumors reader, Apple Causeway Bay in Hong Kong is also undergoing renovations, although the store remains open.
Update 2: Apple has announced on its store page for the Cotai Central location in Macau that the grand opening will be June 29.