Safari Gains Favicon Support in Tabs on iOS 12 and macOS Mojave
Apple at its WWDC keynote on Monday previewed iOS 12 and macOS Mojave, both of which feature Safari 12.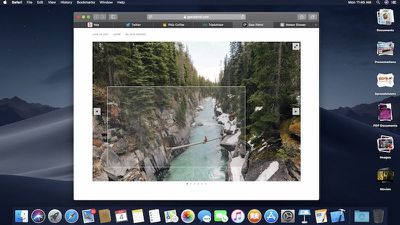 The latest version of Apple's web browser adds long-awaited support for favicons, which are the tiny icons that appear to the left of website page titles, in tabs and the bookmark bar. In many cases, a favicon is a website's or brand's logo.
Microsoft was first to support favicons with Internet Explorer in 1999, and Chrome and Firefox have displayed favicons for many years as well, so this was a long time coming for Safari. Apple confirmed the feature on the What's New in Safari page of its website, alongside a handful of other improvements.
Favicons may seem like a trivial new feature in Safari 12, but as John Gruber noted last year, many people used Chrome or other alternatives explicitly because Apple's web browser lacked support for the tiny icons.
I really can't say this strongly enough: I think Safari's lack of favicons in tabs, combined with its corresponding crumminess when displaying a dozen or more tabs in a window, is the single biggest reason why so many Mac users use Chrome.
Favicons are useful because they make tabs more visually distinguishable, especially for users with several tabs open at once. And, in bookmark bars, it is possible to simply display favicons instead of having lengthier website names, allowing for many more bookmarks to fit within the viewable area.
Favicons are not displayed by default, so the feature must be enabled in the browser's preferences on Mac or via the Settings app on iOS devices.
Mac:
Open Safari.

Click on Safari > Preferences in the Menu bar.

Click on Tabs.

Check the box beside "show website icons in tabs."
iPhone, iPad, and iPod touch:
Open the Settings app.

Tap on Safari.

Toggle on Show Icons in Tabs.
Safari 12 is preinstalled on iOS 12 and macOS Mojave, available now in beta for registered Apple developers. It will also be available to download on the latest versions of macOS High Sierra and macOS Sierra in the fall.