Apple Teaming Up With Goldman Sachs for Apple Pay-Branded Credit Card
Apple is teaming up with investment bank Goldman Sachs for the launch of a new joint credit card that would be placed under the Apple Pay branding. The card could launch as soon as early 2019, according to The Wall Street Journal.
At the same time, Apple would end its partnership with Barclays, which offered customers an Apple rewards program and financing deals through a Barclaycard Apple Rewards Visa. For the new Goldman partnership, which will replace the Barclaycard, the bank is set to offer in-store loans to Apple customers buying iPhones and other Apple products.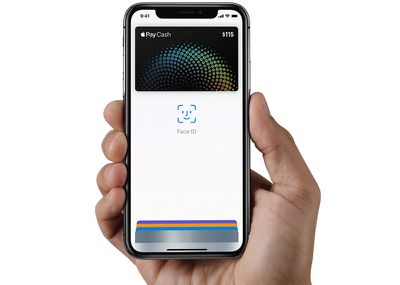 Other specifics of the deal are still being decided upon, people familiar with the matter said, mainly including the terms and benefits of the planned credit card, "including the perks for customers." The Barclays/Apple card currently offers interest-free financing on Apple devices and points toward Apple gift cards.

Apple Inc. and Goldman Sachs Group Inc. are preparing to launch a new joint credit card, a move that would deepen the technology giant's push into its customers' wallets and mark the Wall Street firm's first foray into plastic.

The planned card would carry the Apple Pay brand and could launch early next year, people familiar with the matter said.
Apple is believed to be adding more focus onto its growing services business, which Apple Pay is part of, and the Goldman Sachs partnership could be a way for the company to spread even more awareness of the digital wallet. In a report on Apple Pay adoption by Loup Ventures earlier this year, 16 percent of global iPhone owners were said to have activated Apple Pay. The researchers estimated widespread adoption for the service at 3-5 years from now, "given integration OS and iOS makes it the easiest to use digital wallet."
Apple first debuted Apple Pay in the fall of 2014, and although many retailers joined in support of the platform it has faced push back from companies like Target and Walmart as each try to develop their own digital wallet service. Last spring, Apple said it wasn't worried about the slow adoption of Apple Pay because it saw the mobile wallet as on track to soon become its customers' "primary payment system."