Apple CEO Tim Cook on MSNBC Tonight at 5:00 PT/8:00 ET
Apple CEO Tim Cook is set to appear on MSNBC tonight at 5:00 p.m. Pacific Time or 8:00 p.m. Eastern time in an interview called "Revolution: Apple Changing the World" with MSNBC's Christopher Hayes and Recode's Kara Swisher.
Much of what Tim Cook had to say was already covered in news stories earlier this week as the interview took place on March 28 and was covered by reporters who attended it live.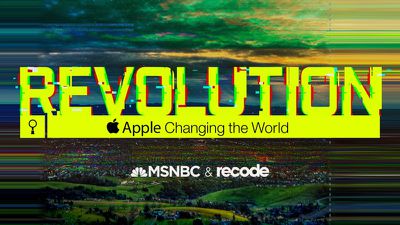 It will be well worth watching in its entirety, however, as Cook had a lot to say during the segment. He covered favored topics like education and coding, but he also commented on the current political climate in the United States and talked extensively about the ongoing Cambridge Analytica privacy scandal Facebook is facing.


Cook had some inflammatory words about Facebook CEO Mark Zuckerberg, for example, stating "I wouldn't be in this situation" when asked what he would have done in Zuckerberg's shoes.
We could make a ton of money if we monetized our customers. If our customers were our product. We've elected not to do that. ...We're not going to traffic in your personal life.
Cook also said Apple's customers are not the company's product, and that "well-crafted" regulation "is necessary" to prevent another Cambridge Analytica-style scandal.
It's clear to me that something, some large profound change is needed... I'm personally not a big fan of regulation because sometimes regulation can have unexpected consequences to it, however I think this certain situation is so dire and has become so large, that probably some well-crafted regulation is necessary.
Cook also commented on criticism over the fact that the iPhone is manufactured in China. "It's not true that the iPhone is not made in the United States," he said, referencing U.S.-based component manufacturers like Corning and Finisar. Cook also said Apple is always focused on job creation and doesn't need political pressure to do the right thing.

"We know that Apple could only have been created in the United States. We know that. This company would not have flourished in any other country in the world. We love this country. We are patriots. This is our country and we want to create as many jobs as we can in the U.S. We don't need any political pressure for that."
Cook also discussed DACA, a fourth major U.S. campus that's in development, the importance of coding, technology in education, lifelong education, and more.
We already have a full, detailed recap of what Tim Cook discussed during the interview, but should there be other interesting comments that were missed in earlier coverage, we'll update this post.
We'll also plan to provide an update if Recode and MSNBC make the interview available to watch for free after it airs. To watch the interview as it airs, you will need to tune into MSNBC through your cable package.
You can also watch on the NBC website or through the "Live" section of the MSNBC app, but cable authentication is required.