Earlier in January, Apple detailed a series of plans to to bolster the U.S. economy, which included the confirmation of its fourth campus based in the United States. At the time, the company said its new campus will "initially house technical support for customers" and that it won't be located in California or Texas, but no other hints regarding its location were given.
Today, Bloomberg posted a new piece theorizing potential locations for Apple's fourth campus in an attempt to predict where Apple might end up. In partnership with Moody's Analytics, Bloomberg was provided with data regarding the top 15 U.S. cities for tax incentives and a local business environment, top 15 cities for workforce education and human capital, and top 15 cities for public transport.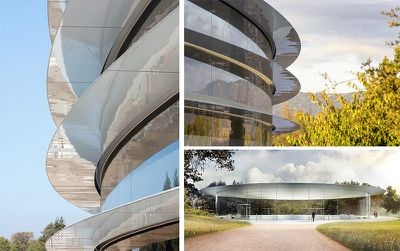 This information was cross-referenced with known data including current Apple headquarters, call centers, data centers, repair centers, smaller corporate offices, and major parts suppliers, to result in areas of the country that Apple could be interested in.
Bloomberg
ultimately hypothesized that Apple "seems likely" to end up in one of three areas: the northeast, potentially in Pennsylvania, Massachusetts or upstate New York; the southeast, in North Carolina or Florida; or Midwest, in Illinois or Wisconsin.
When you consider all these factors, Apple seems likely to choose among northeastern states such as Pennsylvania, Massachusetts and upstate New York; North Carolina and Florida in the southeast; and Midwestern states like Illinois and Wisconsin. The East Coast has one obvious advantage: the ability to provide customer support before existing call centers in Texas and California open for the day, as well as its proximity to hundreds of suppliers. The company could also consider the northwest, where it has a couple of offices, including an R&D center for cloud services in Seattle, and several suppliers.
In regards to Moody's top 15 cities data, Bloomberg argued that these statistics will be the main criteria Apple looks at when planning its fourth campus. These cities could provide Apple with incentives in exchange for its investment, a talented workforce that emphasizes bachelor's degrees instead of advanced engineering degrees ("which arguably fit better with Apple's plans to recruit technical support people, rather than those working on products and operations"), and available commuting options for employees, including a nearby airport for those flying in from other offices.
As the company makes plans for its latest campus, this month it has also named Kristina Raspe as its new vice president of global real estate and facilities. On her LinkedIn page, Raspe said that she's responsible for a variety of the company's real estate assets, including corporate and data center construction.
Cities that have already expressed interest in becoming the home of Apple's fourth U.S. campus include Sidney, Nebraska and Orlando, Florida, but Apple said back in January that it won't confirm the location until later in 2018.
Check out Bloomberg's full article for more information on the potential locations of Apple's upcoming campus.