Apple CEO Tim Cook: 'It's Not True That the iPhone is Not Made in the United States'
"It's not true that the iPhone is not made in the United States," Apple CEO Tim Cook said this morning in an interview with Recode's Kara Swisher and MSNBC's Chris Hayes in a response to criticism about its ties to China and other countries.
"We have always made the parts here," Cook said. "People just look at where the final product is assembled." In a global world, he explained, manufacturing and assembly needs to be done in a variety of places.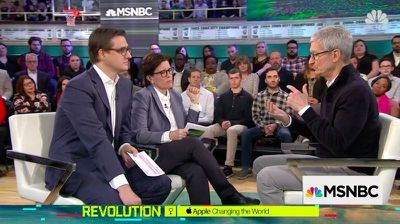 Image via Recode
As Cook has said multiple times in the past, key iPhone components are manufactured in the United States. Display glass for the iPhone and iPad, made by U.S. manufacturer Corning, comes from Kentucky. The Face ID module for the iPhone X comes from Texas. Various chips for Apple devices are also built in the United States, according to Cook, as is equipment for manufacturing the iPhone.
Components manufactured in the U.S. are shipped abroad, with devices assembled by suppliers like Foxconn and Pegatron in China.
Cook said "political pressure" doesn't push Apple to add U.S. jobs, as it's something the company is already doing. As Cook often says, Apple could "only have been created in the United States," and Apple wants to give back. "Businesses should be more than just building revenues and profits," Cook said. "They should be building people."
"We know that Apple could only have been created in the United States. We know that. This company would not have flourished in any other country in the world. We love this country. We are patriots. This is our country and we want to create as many jobs as we can in the U.S. We don't need any political pressure for that."
Apple in January outlined a five-year plan to contribute $350 billion to the U.S. economy through job creation, existing investments and manufacturing, and new investments. Apple has established an Advanced Manufacturing Fund, for example, to invest in U.S. manufacturing. Apple has thus far invested $200 million in Corning and $390 million in Finisar.
On the topic of job creation and automation, Cook said that it's important to "get comfortable" with "the notion that education is lifelong." Jobs, he says, will be "cannibalized over time and replaced by others." Continuously learning is important, which is why Apple puts such a focus on teaching students of all ages to code. "The jobs of tomorrow are heavily software based," he said.
"There's an element of what each of us do, which will be automated over time. That's not bad. But we need to think about training for the jobs for tomorrow, which will be software-based."
He said he does not believe the narrative around "doom and gloom" is correct, but he does believe government and businesses need to work together on job retraining and creation for industries that are being automated. "We should not all sit around waiting for government to tell us what to do," he said.
Tim Cook's full interview will air on MSNBC on Friday, April 6 at 5:00 p.m. in a segment titled "Revolution: Apple Changing the World."
Note: Due to the political nature of the discussion regarding this topic, the discussion thread is located in our Politics, Religion, Social Issues forum. All forum members and site visitors are welcome to read and follow the thread, but posting is limited to forum members with at least 100 posts.