Tim Cook Discusses Tech in Education, DACA, Facebook Scandal, and More in MSNBC Interview
Apple CEO Tim Cook sat down for an interview with Recode's Kara Swisher and MSNBC's Chris Hayes at Lane Tech College Prep today. The same high school hosted Apple's education-themed event on Tuesday.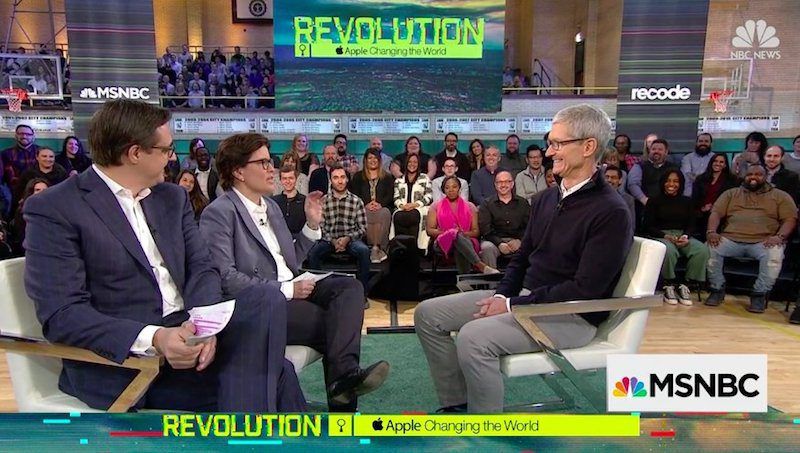 The full interview will be part of a TV special titled Revolution: Apple Changing the World that will air Friday, April 6 at 5:00 p.m. Eastern Time on MSNBC. However, reporters in attendance have shared highlights from the discussion on Twitter.
Education
Cook started by sharing his view that "education is the great equalizer of people." He said "if you look at many of the issues in society today, you can find the root in people who don't have access to quality education today."
"We all have to get comfortable with notion that education is lifelong. Jobs will be cannibalized over time and replaced by others."
While he believes that technology plays a key role in modern education, Cook noted that Apple doesn't believe technology can replace teachers. "Our products are tools," he said. "They help people — not replace people."
"Teachers want to have technology to deliver their lessons. Most all teachers want a level of coding for their classes," said Cook.
On the subject of Apple's new entry-level iPad, $299 with education pricing, Cook said that price point becomes "a very reasonable expenditure" since students, teachers, and school districts "don't have to buy a new iPad every year."
Coding
"I want America to be strong, first and foremost. And one base for that is that everyone needs to learn to code. Coding is a way to express yourself. It's a language," said Cook. "It's not our expectation that everyone becomes a software programmer. But it's important that people learn the basics," he added.
"We need to get more people interested in coding. We have to reach out to women and unrepresented minorities that have been too low in coding."
United States and Jobs
"We know that Apple could only have been created in the United States," proclaimed Cook. "This company would not have flourished in any other country in the world. This is our country and we want to create as many jobs as we can in the United States. We don't need any political pressure for that."
While the iPhone is assembled in Asia, Cook said that many parts are manufactured in the United States, like the display glass from Corning in Kentucky.
On the subject of job retraining, Cook said "we should not all sit around waiting for government to tell us what to do." He added that "this should be something that government and business are working together on."
Cook emphasized the importance of lifelong education and job retraining given that robots will replace humans for certain tasks. "There's an element of what each of us do, which will be automated over time. That's not bad. But we need to think about training for the jobs for tomorrow, which will be software-based."
Immigration and DACA
"The DACA situation is one that I am personally, as an American, deeply offended by," said Cook, referring to the Deferred Action for Childhood Arrivals policy that ended March 5, but is currently upheld by the Supreme Court. "The DACA situation is not an immigration issue. It's a moral issue."
"I don't see this as a partisan issue. This is about America—it's that simple. I am very disappointed with both parties … I'm personally lobbying Congress."
Privacy and Facebook Scandal
Earlier this month, The Guardian revealed that data firm Cambridge Analytica amassed data on 50 million Facebook users without their consent and targeted messages to voters during the 2016 U.S. presidential election. Cook, who previously called the situation "dire," expanded on his thoughts about the matter today.
"What would I do? I wouldn't be in this situation," said Cook, responding to a question about what he would do if he were Facebook CEO Mark Zuckerberg.
"We curate," he elaborated, referring to the App Store's review process. "We don't want porn on our App Store. We don't want hate speech on our App Store. We don't want the ability to recruit terrorists on our App Store. We're looking at every app in detail. Is it doing what it is saying it is doing?"
"The truth is, we could make a ton of money if the customer was our product," as is arguably the case for companies like Facebook and Google. "We've elected not to do that," said Cook, touting Apple's privacy measures.
Cook thinks it's "creepy" when he looks at something and it "chases him all the way across the web," like targeted ads. "We're not going to traffic in your personal life. I think it is an invasion of privacy. Privacy to us is a human right. It's a civil liberty and it's something that is unique to America."
In terms of how users can protect their privacy, Cook said the only way to protect data is to encrypt it. "If I were you, I wouldn't do business with a company that isn't doing that," he said. "I would make sure I understood the privacy policy of every app and every website you frequent. I would go into private browsing mode. I would think about blocking cookies."
Amazon HQ2
On the subject of Apple's planned new campus somewhere in the United States, Cook said "we're not doing a beauty contest thing—that's not Apple," which appears to be a slight dig at Amazon's HQ2 search. "It sets up a win lose situation and that's not something I want Apple to be a part of," he explained.
We'll have more coverage of Cook's interview when Revolution: Apple Changing the World airs on MSNBC next Friday.
Note: Due to the political nature of the discussion regarding this topic, the discussion thread is located in our Politics, Religion, Social Issues forum. All forum members and site visitors are welcome to read and follow the thread, but posting is limited to forum members with at least 100 posts.
Top Stories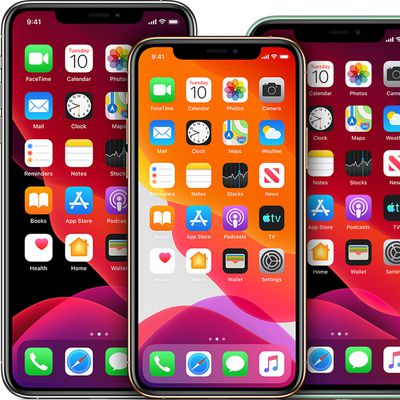 Apple is preparing to delay the launch of the 2020 iPhones expected to be equipped with 5G technology, according to sources with knowledge of Apple's plans that spoke to Japanese news site Nikkei. Apple has reportedly held internal discussions about the possibility of delaying the launch "by months" over fears of how well iPhones would sell in the current situation, and supply chain sources...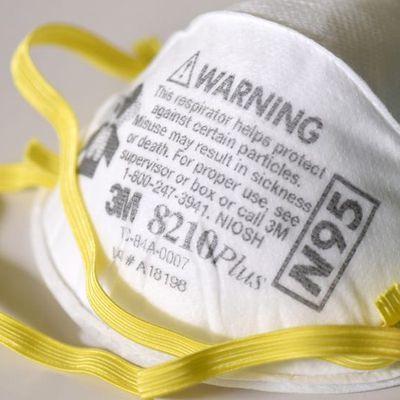 Apple over the weekend announced plans to donate millions of N95 masks to hospitals in the United States and Europe, and according to Apple CEO Tim Cook, Apple has been able to source more than 10 million N95 masks in the U.S. and millions more in Europe. Apple CEO Tim Cook said on Saturday that Apple was aiming to donate supplies to healthcare providers fighting COVID-19, and clarified...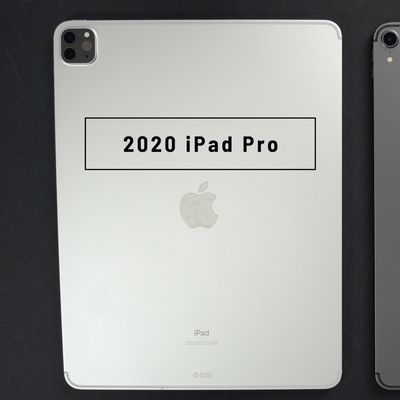 Apple last week announced new 11 and 12.9-inch iPad Pro models, and as of today, the new iPads are arriving to customers. We picked up one of the new 12.9-inch models and checked it out to see just what's new and whether it's worth buying. Subscribe to the MacRumors YouTube channel for more videos. When it comes to design, the new iPad Pro models are identical to the 2018 iPad Pro models, but ...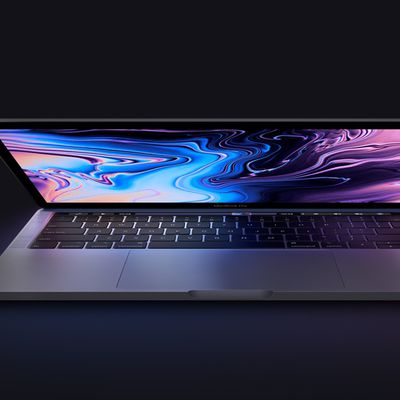 Apple plans to launch several Mac notebooks and desktop computers with its own custom designed Arm-based processors in 2021, analyst Ming-Chi Kuo said today in a research note obtained by MacRumors. Kuo believes that Arm-based processors will significantly enhance the competitive advantage of the Mac lineup, allow Apple to refresh its Mac models without relying on Intel's processor roadmap,...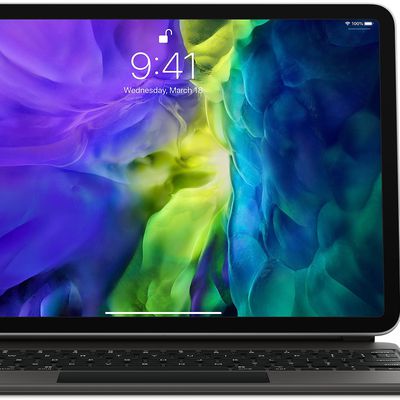 Apple today released iOS and iPadOS 13.4, the latest major updates to the iOS 13 operating system that was released in September. iOS and iPadOS 13.4 come two months after the release of iOS and iPadOS 13.3.1 with Screen Time Communication Limits. The iOS and ‌iPadOS‌ 13.4 updates are available on all eligible devices over-the-air in the Settings app. To access the updates, go to...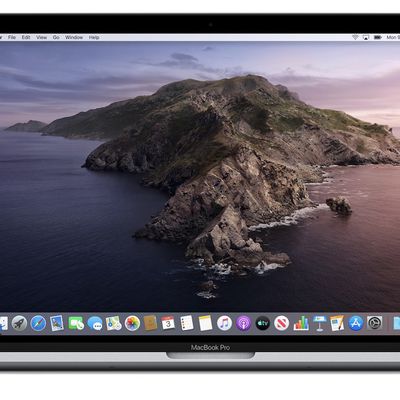 Apple today released macOS Catalina 10.15.4, the fourth update to the macOS Catalina operating system that was released in October. macOS Catalina 10.15.4 comes a couple of months after the release of macOS Catalina 10.15.3. macOS Catalina 10.15.4 can be downloaded from the Mac App Store for free using the Update feature in the System Preferences app. The macOS Catalina 10.15.4 update...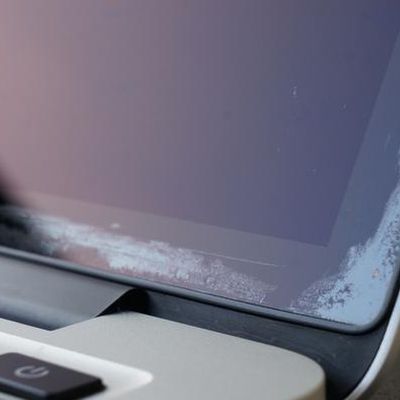 Apple this week acknowledged that MacBook Air models with Retina displays can exhibit anti-reflective coating issues, as indicated in a memo shared with Apple Authorized Service Providers and obtained by MacRumors. "Retina displays on some MacBook, MacBook Air, and MacBook Pro computers can exhibit anti-reflective (AR) coating issues," the memo states. Apple's internal service documentation ...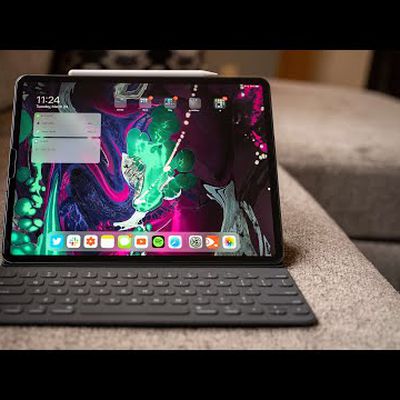 Apple last week introduced new 11 and 12.9-inch iPad Pro models, which are set to arrive in the hands of customers starting this week. Apple introduced a nifty new Magic Keyboard with trackpad alongside the new iPad Pro models that's coming in May, but it also debuted a new Smart Keyboard Folio, which is available now. We picked up the Smart Keyboard Folio for the designed for the 2020 iPad...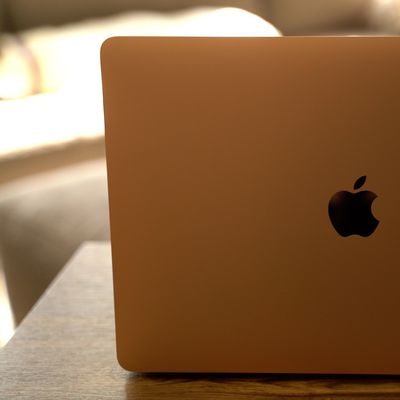 Alongside new iPad Pros last week, Apple also refreshed the MacBook Air, adding more storage, faster 10th-generation processors, and an updated keyboard. We picked up one of the new machines to take a look at some of the upgrades added in the 2020 update. Subscribe to the MacRumors YouTube channel for more videos. Design wise, there are no real external changes to the MacBook Air's body,...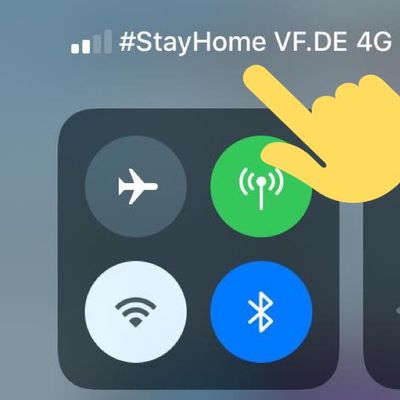 iPhone users in several countries who disconnect from WiFi on their devices will see a "Stay Home" message at the top of the Control Center where cellular network information is displayed. Image via Matt Navarra According to reports on Twitter, the status bar messages are showing up in countries that include Germany, Belgium, United Arab Emirates, Peru, Turkey, India, Luxembourg, Romania,...