Tim Cook on What He Would Do in Mark Zuckerberg's Shoes: 'I Wouldn't Be in This Situation'
"I wouldn't be in this situation" Apple CEO Tim Cook told Recode's Kara Swisher in an interview where he was asked what he would do right now if he was Mark Zuckerberg.
Cook went on to say that Facebook should have self regulated to prevent the massive data collection scandal it's now embroiled in, but the time for that has passed. "I do think that it is time for a set of people to think deeply about what can be done here."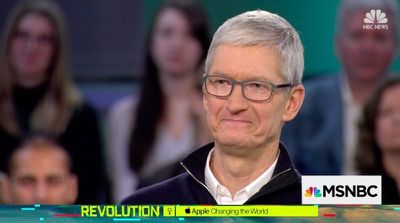 Image via Recode
It's clear to me that something, some large profound change is needed... I'm personally not a big fan of regulation because sometimes regulation can have unexpected consequences to it, however I think this certain situation is so dire and has become so large, that probably some well-crafted regulation is necessary.
Cook made the comments calling for regulation in a wide-ranging discussion with Swisher and MSNBC's Chris Hayes, covering topics from privacy to DACA to education, where he also again pointed out Apple's strong stance on privacy.
As Cook has said many times in the past, "you" are not Apple's product and Apple does not make its money selling customer data. Cook says Apple sees privacy as a "human right, a civil liberty."
We could make a ton of money if we monetized our customers. If our customers were our product. We've elected not to do that. ...We're not going to traffic in your personal life.
Curation is important to Apple, and that's one of the ways Cook believes Facebook went wrong. "We curate," he said. "We don't want porn on our App Store. We don't want hate speech on our App Store."
Apple, he says, looks at every app in detail. "Is it doing what it is saying it is doing?"
Cook also offered up some advice on how people can protect their privacy. He recommends people read and understand the privacy policy of every app and website frequented, use private browsing mode, and think about blocking cookies. "The only way to protect your data is to encrypt," he added.
Like many of us, Cook says he "finds it creepy" when he looks at something and it chases him "all across the web," something Apple has actively started blocking with cross-site tracking prevention tools in macOS High Sierra and iOS 11. "I don't like that," he said.
Cook was interviewed at the Lane Tech College Prep High School where Apple held its educational event earlier this week. The CEO's full interview will air on Friday, April 6 at 5:00 p.m. Pacific Time or 8:00 p.m. Eastern Time on MSNBC.