Ahead of the 2018 NAB media trade show, which starts on April 7, Adobe today announced its traditional spring update with new updates for several Creative Cloud apps, including Premiere Pro, After Effects, Audition, and Character Animator.
Adobe's aim in 2018 is to introduce new tools and improvements to allow its customers to streamline their workflows to save time.
"The demands and pace of video content creation are reaching levels we've never seen before. The time pressure on video professionals means the need for powerful and efficient creative tools has never been greater," said Steven Warner, vice president of digital video and audio at Adobe. "Adobe video apps like Premiere Pro and After Effects give them that power which, combined
with the services available in Creative Cloud, provide broadcasters, media companies, filmmakers and YouTubers a complete ecosystem to bring their stories to screen faster than ever."
In Premiere Pro CC, Adobe's video editing software for professionals, Adobe has introduced a Color Match feature, powered by its artificial intelligence engine Adobe Sensei. Color Match is able to take the color and light values from a reference image and then apply them as editable color adjustments to the current shot, all while intelligently adjusting for skin tones.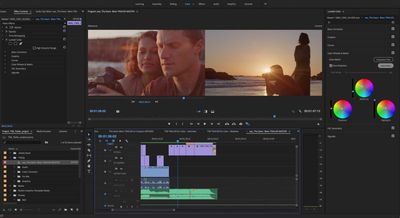 With Color Match, it takes just a few clicks and adjustments to match the colors of various video clips. For broadcast-quality content, the Video Limiter ensures color grading meets broadcast standards.
In the Essential Graphics panel, there are new tools for animating text and graphics, along with Auto Ducking improvements that are part of the Essential Sound panel and new options for tracking time codes with a Time Code panel.
There are new integrations between Premiere Pro and Audition, with Adobe introducing the ability to open Premiere Pro projects in Audition to select specific sequences you want to work on. A new Track panel has been added to allow users to better manage their projects, and Clip Spotting updates video previews in Audition in real-time.
Adobe After Effects CC, designed for motion graphics, offers a Master Properties option for seeding individual values to all versions of a composition, plus there's a new Advanced Puppet Engine for smoother, more realistic object movement. Adobe's data-driven animation tools have also been improved with support for spreadsheet files like .CSV and .TSV.


Adobe Immersive Environment, which now includes support for the Windows Mixed Reality Platform, is available in After Effects CC, allowing users to preview VR content with a new immersive workflow.
Character Animator has gained improvements that make it faster to create new characters than ever before with a new option to drag layers from the Puppet panel into the Triggers panel to refine existing behaviors or create new ones.
All of Adobe's Creative Cloud updates will be available starting today, with additional information on what's new available on Adobe's site. Adobe's Creative Cloud plans, which cover the complete range of Adobe CC software, start at $49.99 per month.