Full Video of Apple's Chicago Education Event Now Available on Apple TV
Apple didn't live stream today's education-focused event held at Lane Tech College Prep High School in Chicago, but the company has made a video available in the Events app of the Apple TV now that it's over.
The video spans an hour and seven minutes, and while Apple mainly focused on educational topics, it does include the unveiling of the new low-cost $329 sixth-generation iPad, which comes equipped with Apple Pencil support.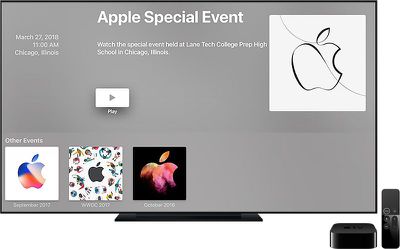 Apple has not yet made the event available to watch on its website, but a video should be uploaded and available soon, and a direct link to the video is available here. A YouTube version may also come later in the day.
In addition to its main event, Apple has shared several new iPad-focused YouTube videos that were shown during the Chicago event.
The first video, above, focuses on the Apple Pencil being used to draw the new iPad, highlighting Apple Pencil integration in the low-cost tablet. The other two videos focus on students using the new iPad for school work and Apple's commitment to education.
In addition to a new low-cost iPad with Apple Pencil support, Apple today also introduced new tools for teachers and students, including a Classwork app for assignments, a ClassKit API for creating educational apps with Classwork integration, new Apple Pencil capabilities for iWork, and an "Everyone Can Create" curriculum that's similar to "Everyone Can Code" but is more focused on creative pursuits like photography, video making, music, and art.
Don't want to watch Apple's full hour-long presentation? We'll have a recap coming soon that covers all of the interesting points of the event, so stay tuned for that.
Update: The full video is now available on Apple's Events website.