Chinese Report Expects 11-Inch iPad Pro at WWDC, No New iPhones Until Second Half of 2018
Apple is planning to release a new iPad Pro with a display that measures about 11 inches, according to Taiwan's Economic Daily News.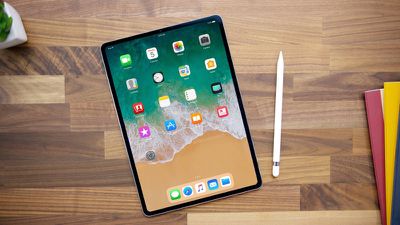 We've already heard rumors about a 10.5-inch iPad Pro with
slimmer bezels and no home button
, so Apple could include a slightly larger 11-inch display without increasing the physical size of the tablet itself. This would mirror the iPhone X, which has a 5.8-inch screen, but is smaller than an iPhone 8 Plus.
Details are hard to gather from a loose translation of the Chinese report, which says the 11-inch iPad Pro and an updated 12.9-inch iPad Pro are likely to be released at Apple's annual Worldwide Developers Conference in June, echoing an earlier prediction from Rosenblatt Securities analyst Jun Zhang.
Both new iPad Pro models are expected to feature Face ID and faster eight-core Apple A11X processors. It's unclear if the tablets will have notches for the TrueDepth system, or a slimmer, uniform top bezel that still has enough room to house the camera and sensor technology that powers the facial recognition.
The report, citing a source, adds that Apple has no new iPhone models planned for the first half of 2018, dampening hopes for an iPhone SE refresh. The first new models of the year will likely be the so-called iPhone X2, iPhone X2 Plus, and a 6.1-inch aluminum iPhone with Face ID in September.
KGI Securities analyst Ming-Chi Kuo had already cast doubt on rumors about a second-generation iPhone SE launching in the first half of 2018. He said Apple was likely to focus its development resources on the trio of iPhone X-like models expected to launch in the second half of the year.
The current iPhone SE looks much like the iPhone 5s, including a smaller four-inch display, preferred by a subset of customers. The device is powered by Apple's A9 chip, like the iPhone 6s and iPhone 6s Plus, and it has 2GB of RAM, a 12-megapixel rear camera, a 3.5mm headphone jack, and Touch ID.
Apple hasn't fully refreshed the iPhone SE since it launched in March 2016, but it did double its available storage capacities to 64GB and 128GB last March. It also dropped the device's starting price to $349 last September.