Apple Working on Trio of New Macs With Custom Co-Processors That Could Launch This Year
Apple is developing at at least three new Mac models integrated with custom co-processors, including updated notebooks and a new desktop, according to Mark Gurman, reporting for Bloomberg News.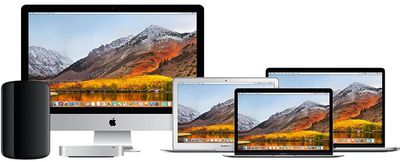 The report claims the new models could be released as early as this year, but it doesn't specify which ones they'll be. Of course, Apple's notebook lineup includes the MacBook, MacBook Air, and MacBook Pro, while its desktop lineup includes the iMac and iMac Pro, Mac Pro, and aging Mac mini.
In terms of notebooks, the MacBook and MacBook Pro are the most likely candidates for a refresh this year, as the MacBook Air has not received any meaningful updates since March 2015, nearly three years ago, and it seems like Apple is only keeping it around for its $999 price tag at this point.
MacBook Pro with Touch Bar models released in 2016 and later are already equipped with Apple's custom T1 chip that authenticates and secures Touch ID and Apple Pay respectively, and it's possible the notebook could be updated with a newer chip that offloads even more tasks from the main Intel processor.
MacBook models do not feature a custom co-processor, but unless Apple is planning to extend the Touch Bar to the 12-inch notebooks, it remains to be seen if there would be much necessity for a T-series chip.
There's also a single rumor from DigiTimes, which doesn't have the most reliable track record, claiming Apple will release a new entry-level 13-inch MacBook in the second half of this year. It's unclear if this model would be a potential MacBook Air replacement, or where else it would slot in Apple's notebook lineup.
Shifting to desktops, the iMac Pro is already equipped with Apple's custom T2 chip for enhanced security and integration. The co-processor integrates several previously separate components, including the system management controller, image signal processor, audio controller, and SSD controller.
The T2 chip has a Secure Enclave that makes the iMac Pro even more secure with new encrypted storage and secure boot capabilities. It's possible Apple could extend this co-processor to standard iMac models this year.
Apple has also confirmed it is working on an all-new modular Mac Pro, although it only revealed that its release date would come at some point after 2017. And the Mac mini has gone over 1,200 days without an update, according to the MacRumors Buyer's Guide, and the portable computer could sorely use a refresh.
Much of the Bloomberg News report is focused on Apple's shift towards in-house chip design, reducing its dependance on companies like Qualcomm and Imagination Tech, so further details about the new Macs are scant.