Alongside new iOS 11.3, macOS 10.13.4, and tvOS 11.3 betas, Apple today released a major update for Swift Playgrounds, the iPad app that's designed to teach students how to code.
Swift Playgrounds 2.0 introduces a new feature that lets users subscribe to playgrounds from third-party creators, browse and download their content, and get alerts when new playgrounds are made available from content creators.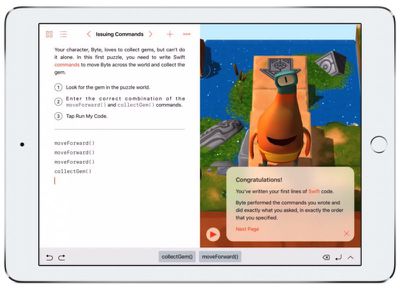 The update also includes support for new robots like IBM's TJBot and the Mekamon, accessible via the Add Subscriptions button, and a new gallery view will show all playgrounds including third-party subscriptions in one easy-to-see single view.
A new Locations button is designed to let users open playgrounds from the Files app on the iPad, and documentation for iOS features and commands is now available from the Help button and the tools menu.
The latest version of Swift Playgrounds includes new features to make it easier to discover even more content. Now you can subscribe to playgrounds from your favorite third-party creators, then browse and download their content directly within Swift Playgrounds. You'll automatically see new and updated playgrounds in your subscriptions, a content gallery that shows all playgrounds in a single view, new robots, and much more.
Swift Playgrounds 2.0 can be downloaded from the App Store for free. [Direct Link]