Apple Eyes Lease at The Culver Studios, Bidding on Drama Starring Jennifer Aniston and Reese Witherspoon
Apple is reportedly seeking to move its original content division to an iconic California studio where movies like Gone With The Wind and The Matrix were shot, in order to serve as a base for its big push into Hollywood production.
According to the Financial Times, Apple is interested in leasing space at The Culver Studios, which was built by silent movie pioneer Thomas Ince and counts RKO, Howard Hughes and Cecil B DeMille among its former owners. The studio is close to Sony Pictures' studio lot in Culver City, as well as Beats, the audio group Apple bought two years ago.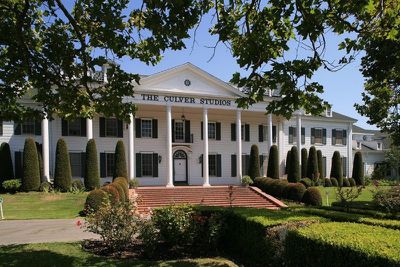 Leasing at The Culver Studios would give Apple room to expand, as it hires top Hollywood talent, according to three people familiar with the discussions. The site has 13 soundstages up to 32,000 sq ft in size that can accommodate TV show shoots and full-length feature film work. But Apple is mainly looking for office space, albeit in an iconic location that signals their ambitions to become a big player in Hollywood.
Apple and The Culver Studios declined to comment on the report, but the move makes sense given that Apple recently set aside $1 billion to acquire and produce original television content over the next year to compete with the likes of Netflix and Amazon.
That budget is said to be controlled by Hollywood veterans Jamie Erlicht and Zack Van Amburg, who were hired by Apple in June from Sony to oversee content acquisition and video strategy. Apple also recently hired former WGN America President Matt Cherniss to oversee development of the company's worldwide video unit. Erlicht and Van Amberg oversaw the production of hit shows like Breaking Bad and The Crown, while Cherniss previously worked with the two to bring the Sony shows Underground and Outsiders to WGN.
One of the first acquisitions Apple is said to be vying for is a "high-profile drama" starring Jennifer Aniston and Reese Witherspoon, set on a morning TV chat show, according to FT. The company is reportedly bidding against Netflix and others for rights to the drama, according to people familiar with the discussions, indicating that Apple is looking to procure premium productions similar to those found on HBO.
At the same time, Apple is struggling to catch up with its rivals in the original content space and is still looking to get at least one hit under its belt, with recent video efforts "Planet of the Apps" and "Carpool Karaoke" released on Apple Music generally failing to excite audiences. Meanwhile, the company's Apple TV set top box has lost market share to rivals like Roku, Amazon's Fire TV, and Google's Chromecast due to its high price and lack of 4K content.
Despite challenges, the scale of Apple's new budget and hiring efforts are said to be making some in Hollywood believe that this time the company is more committed to breaking into the film and TV industry. Apple is also rumored to be releasing a new Apple TV with support for 4K content and HDR video output at its upcoming media event on September 12.