New Car Buyers Increasingly Interested in Apple CarPlay
CarPlay is becoming an increasingly important feature that consumers look for when purchasing a vehicle, according to a new report released today by Strategy Analytics.
In a survey querying future car buyers about their interest in Android Auto, CarPlay, and Baidu CarLife in the United States, Western Europe, and China, Strategy Analytics discovered the majority of consumers are interested in CarPlay.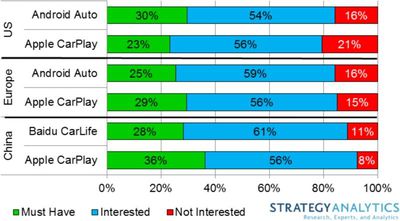 In the United States, 23 percent of respondents said CarPlay was a "must have" feature, while 56 percent said they were "interested." Just 21 percent were "not interested." In Europe and China, the numbers were even higher. 36 percent of respondents said CarPlay was a must have feature in China, and 29 percent said the same in Europe.
No fewer than 30 percent of consumers surveyed said they were willing to pay more for a smartphone mirroring feature like CarPlay or Android Auto, provided it's offered at a reasonable price point. For existing customers who have access to mirroring systems like CarPlay, they're often used exclusively over the existing in-car infotainment options. From Strategy Analytics' Derek Viita, author of the report
"All of our research suggests that consumers will soon be ready to adopt CarPlay and Android Auto for their infotainment needs, which is another round of bad news for embedded navigation suppliers and OEMs that want to sell upgraded navigation systems." Continued Viita, "It also shows a missed opportunity: OEMs have been including these systems 'as standard,' when our research suggests that consumers would actually be willing to pay for them, even to the price of traditional navigation options."
For the survey, Strategy Analytics queried 1,503 consumers in the United States, 1,607 in Western Europe, and 2,003 in China. To participate, respondents were asked to confirm whether they owned or leased a motor vehicle and a smartphone, and they were only asked about in-car mirroring systems available in their regions and compatible with their smartphones.
Though CarPlay has been available since 2015, car manufacturers didn't begin widely adopting the feature until mid-2016. CarPlay is now included in many new 2016 and 2017 vehicles from a wide range of car makers like Ford, Cadillac, Honda, Kia, Audi, BMW, Mercedes-Benz, Volkswagen, Fiat-Chrysler, and more.

CarPlay in the new Nissan Leaf


More than 200 vehicles include CarPlay support, with Apple offering an official master list of all the CarPlay vehicles available in the United States on its website. CarPlay is also available in many aftermarket infotainment units from companies like Pioneer and Alpine.